Your apartment may feel right in many ways: maybe it's bright, or surprisingly spacious or, possibly, in your dream location. But it probably could also use some upgrades. If only it had a better kitchen, or a more up-to-date bathroom, or one extra (or fewer) bedroom. Where to begin to transform your current space into exactly what you want and need right now?
We asked the pros at Sweeten, a free service that matches homeowners with screened general contractors in NYC and the tri-state region, for tips on kick-starting a renovation project in New York City. Here, their expert advice:
1. Create a wish list and budget
Make a wish list with two columns: must-haves and nice-to-haves.
"To separate your needs from your wants, start with what's motivating the renovation," says Jean Brownhill, founder and CEO of Sweeten.
For example, if you're planning a bathroom renovation because you hate the feel of cold tile on your feet, you may want to prioritize a warmer surface or heated floors, versus, say, a rain shower and fogless mirrors.
"Once you're clear on your priorities and motivation, it's easier to decide where to focus your efforts and spending," says Brownhill.
Next, determine how much money you have to devote to the project. By inputting some basic information, including level of finishes and dimensions of the space, Sweeten's renovation cost calculator can give you an estimated range of what various renovation projects will cost. Don't forget to add on an extra 10-20% as a buffer, and factor in the cost of any relocation and temporary accommodations.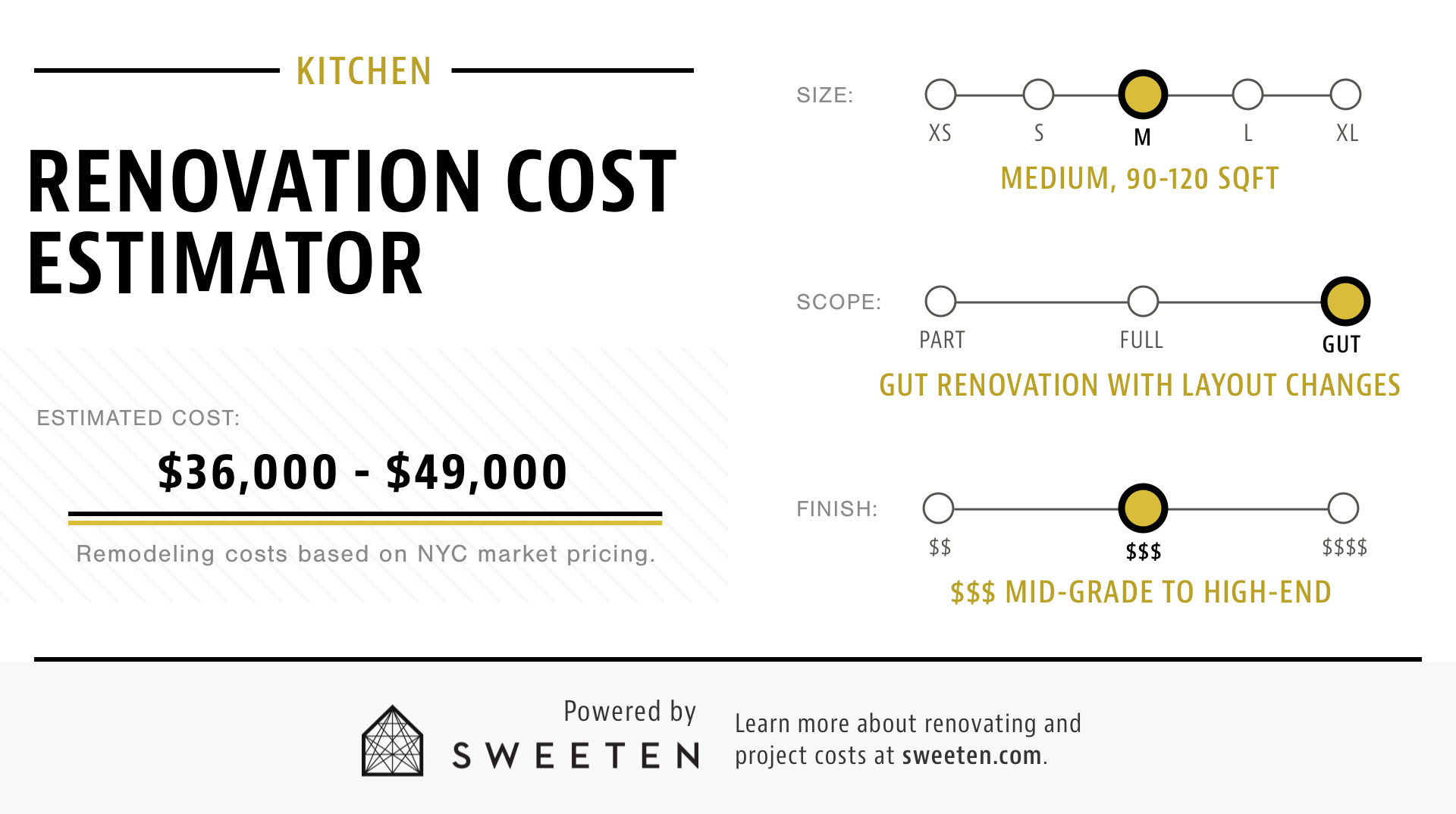 Click on image to calculate your own kitchen reno estimate.
2. Familiarize yourself with your building's alteration agreement
An alteration agreement is a contract between you--the owner of the apartment--and your building's board and managers. It details how any renovation work can be conducted.
Now's the time to take a closer look at yours, paying particular attention to the following:
• Your building's specific approval process for renovations (who on the board needs to sign off on your project?)
• Any licensing and insurance requirements (what type of permits and/or security deposits will you need?)
• Technical details, such as designated work hours (what times of day is the crew allowed to make noise? Are there certain times of the year that renovations are a no-no?)
• Rules regarding the use of the freight elevator (for transporting materials, machinery and waste) and any waste disposal protocol (will you be charged additional fees?).
3. Hire your team
Next, figure out who you need to do the work: A general contractor or an architect? Generally speaking, structural changes (think moving walls or altering the floorplan in a significant way) or the moving of major appliances or wet zones (say, relocating the stove and oven to the other side of the kitchen or adding a toilet, shower or another bathroom), will require the services of an architect.
"It's just too difficult to communicate that level of detail without architectural drawings," explains Brownhill.
If your plan is to keep the floorplan, plumbing and gas lines in place, a general contractor can typically jump right into the job.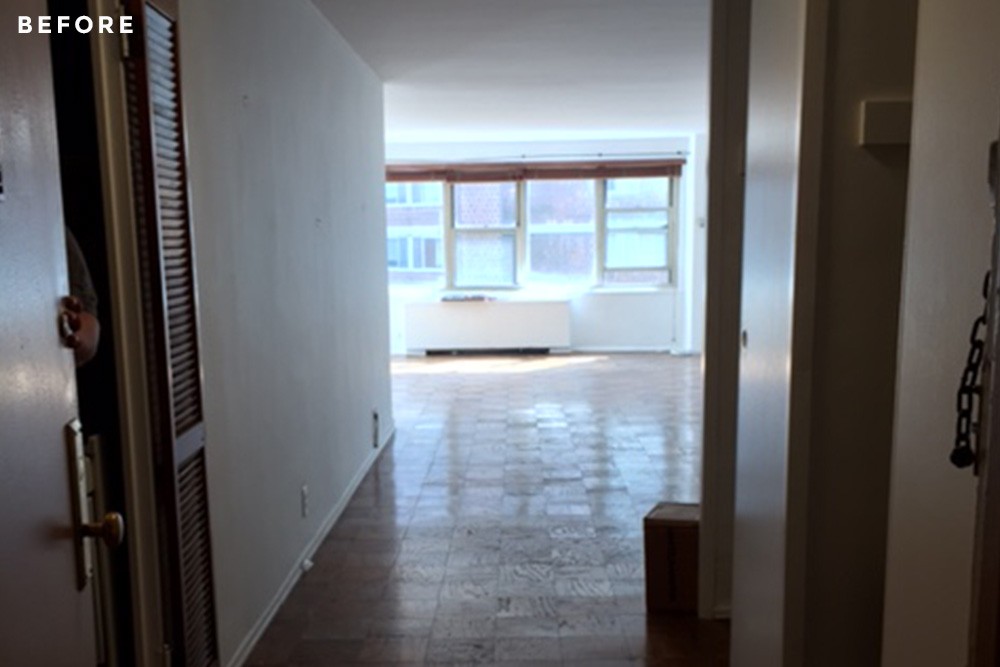 4. Get your approvals in place
If your project requires an architect or general contractor, you'll need to submit a proposal to your board, based on your building's alteration agreement, outlining the work to be done.
Depending on the alterations, you may also need permits from the Department of Buildings. Despite recent DOB reforms, this could take anywhere from 24 hours to months and even years, which is why many architects and general contractors working in New York City enlist the services of an expeditor.
"Expeditors are a largely NYC phenomenon, but because of their particular relationships with the DOB, they can be invaluable in obtaining timely approvals of permits necessary to begin renovations," says Brownhill. Ask your professional who they use and what their track record is like.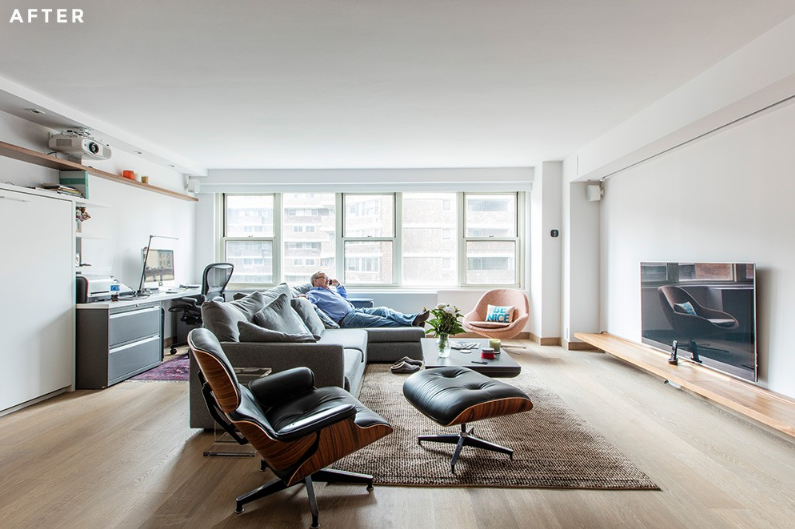 5. Alert your neighbors
You're all set to start your renovation, but first practice some good renovation etiquette and alert your neighbors to the upcoming construction. Consider writing a letter—including info on estimated project length, potential disturbances (dust, noise, fumes, etc.), targeted work dates, and even the name of your contractor or architect (to whom they can address questions or concerns)—that can be slipped under the doors of anyone who might be directly affected by the general disruption of your project.
Alternatively, you can send an email or even knock on doors to report your plans to your fellow residents.
"It doesn't matter which form of communication you use, so choose the one most comfortable for you," says Brownhill. "The important thing is to extend the courtesy." And when the job is done, it doesn't hurt to invite them over for a celebratory glass of wine as a thank you and help ensure that when it's their turn to renovate, they'll be as considerate as you.
---
Named "Best Contractor Locator" by New York Magazine, Sweeten is an award-winning, free service that matches homeowners with the best general contractors for their renovation, with support from start to finish.