In high-density NYC, there's often nowhere to go but up. And with the start of springtime, many New Yorkers look skyward for opportunities to connect to the natural world. If you have access to a rooftop—or better yet, have your own private roof deck—there are a few ingenious ways to make the most of your slice of the great outdoors. Take inspiration from these locals, who are using roofs for more than just nude sunbathing (not that there's anything wrong with that).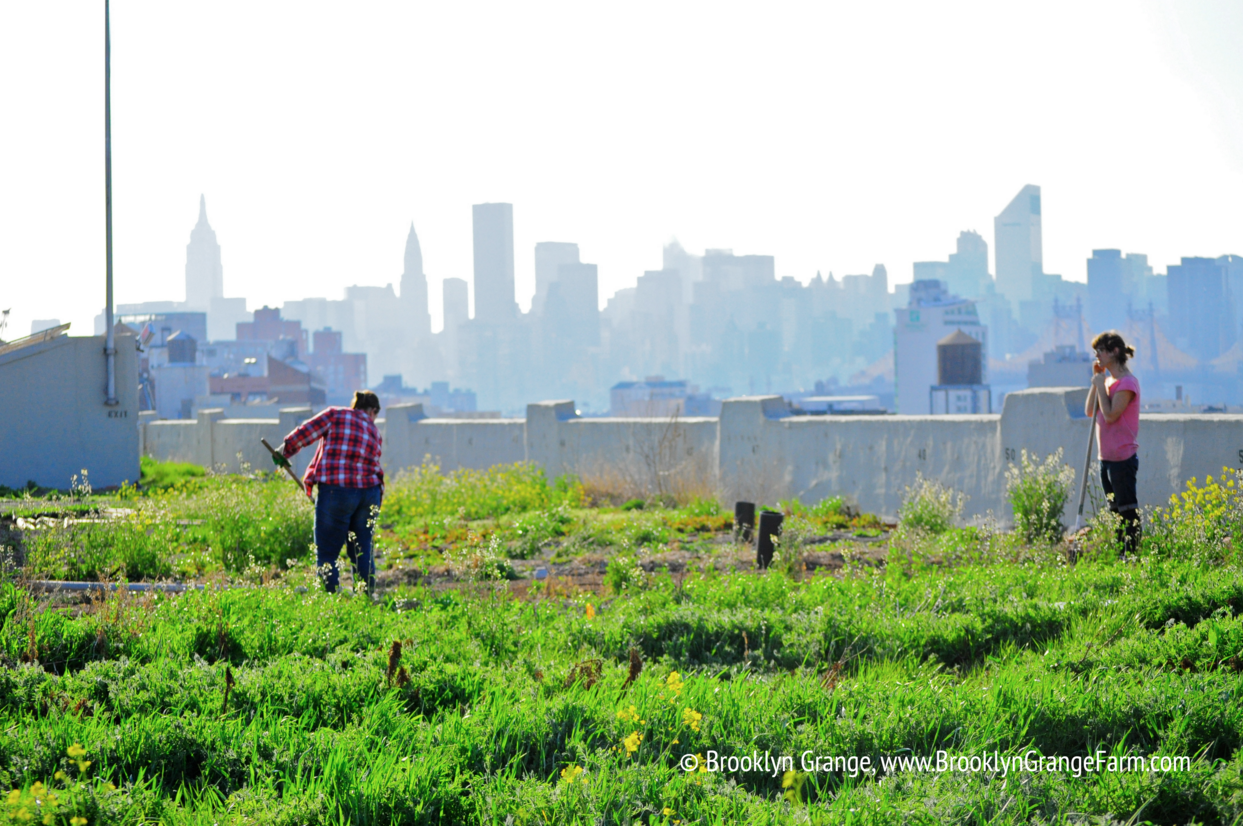 Farming and gardening
"Real estate is so dense and valuable that to let outdoor space go to waste is just unthinkable at this point," says Gwen Schantz, chief operating officer of Brooklyn Grange. The farming and green roofing business helps homeowners build, design, and maintain gardens, as well as manages their own apiaries and rooftop farms.
Schantz has observed a renewed interest among New Yorkers in getting their hands dirty by gardening, far above the bustle of city streets. Now in its fifth year, Brooklyn Grange staff has consulted on installations for a range of businesses, agencies, and schools, including the United Nations headquarters, Eataly's rooftop restaurant, and FIT. For those who own roof space, getting started isn't terribly complicated, though there are some safety factors to consider.
NYC building codes require homeowners to install a parapet of at least 42 inches on the roofs to prevent people and objects from falling, and to determine that their roofs are strong enough to use, as planters filled with soil can become quite heavy. Schantz recommends that residents who are unsure of the latter point consult a structural engineer; green roof design/build company Apex Roofs estimates that the average cost of installing an intensive green roof starts at $25 per square foot. 
The depth of your garden is another consideration. According to Schantz, the Department of Buildings doesn't require any paperwork for "extensive green roofs," which are four inches or shallower, but for "intensive green roofs," which are deeper, you'll need a permit. The paperwork itself is free, but filing it requires that a professional certify that the roof's installation meets all construction codes and regulations. 
After that's settled comes the fun part: deciding what you want to grow. Schantz says that apart from the obvious options of food or flowers, some roof gardeners grow plants that attract butterflies or bees. Also, consider whether you want your roof to be green year-round or seasonally. She notes that organic and native greenery is particularly popular: "A lot of people are interested in bio-diverse native plant gardens, which are mini-replicas of what you see in the Catskills," she says. "A field of wildflowers or grasses is really beautiful, and juxtaposes amazingly with the city background."
For those who don't have access to their own buildings' roofs, Brooklyn Grange's farms are frequently open for events and visits throughout the summer, and the organization also offers classes on everything from composting to cheese-making.
Schantz advises that anyone who is trying their hand at farming for the first time go easy on themselves: "Don't be afraid to kill anything. If you grow plants and they die, it's okay," she says. "Every season, you'll learn more and more."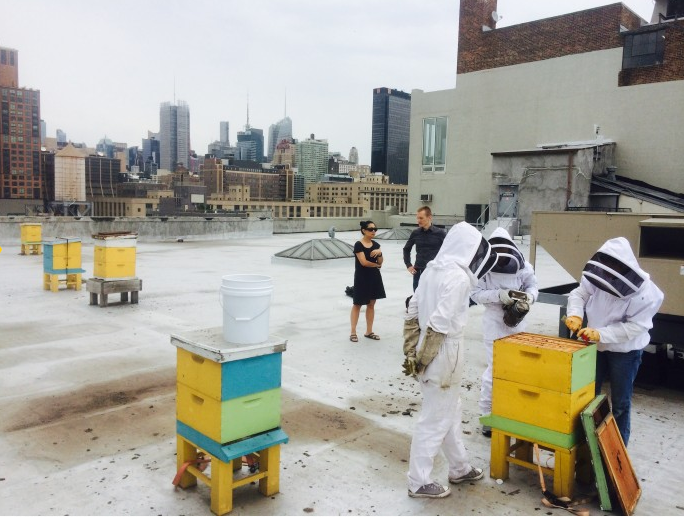 Beekeeping
Since beekeeping was legalized in NYC in 2010, rooftop apiaries have sprouted throughout the five boroughs. Andrew Coté, who comes from a long line of beekeepers and is founder of the NYC Beekeepers Association, oversees hives in places like the rooftop of the Waldorf-Astoria Hotel. He also sells several varieties of honey, as well as beeswax, candles, and soaps, made at his family's apiary in Connecticut. 
For many New Yorkers, the appeal of beekeeping—in addition to the honey—is the chance to "connect to nature," he says. "It's something they can do without interrupting their lives, since hives only need to be checked every week or so."
Starting your own hive isn't easy, though, Coté says. Would-be beekeepers need permission from rooftop owners, which can be difficult to obtain, due to common concerns about about liability, roof access, and possible damage to the roof. Furthermore, if your building doesn't have elevators to the roof, transporting all the necessary gear up the stairs and installing the bees will be an extra challenge. (You'll also need to submit paperwork declaring your beehives' locations to the city's Department of Health and Mental Hygiene, but this is a free, one-page form.)
Fortunately, the NYCBA simplifies this process by offering beginners a 12-hour course in the fundamentals of starting and maintaining hives, as well as apprenticeships that provide students with 250 hours of hands-on experience at apiaries on already-established city rooftops. 
For those fearful of stings and other injuries, Coté insists that bees are nothing to be afraid of: "There's a false perception that they are dangerous, but that it is not true. Many more people in New York have been killed by dogs than by honey bees," he claims. 
That said, "Bees need to be taken care of and looked after. There's a responsibility," Coté says. "If a hive is taken care of poorly, the owner will have an issue and their neighbors will have an issue."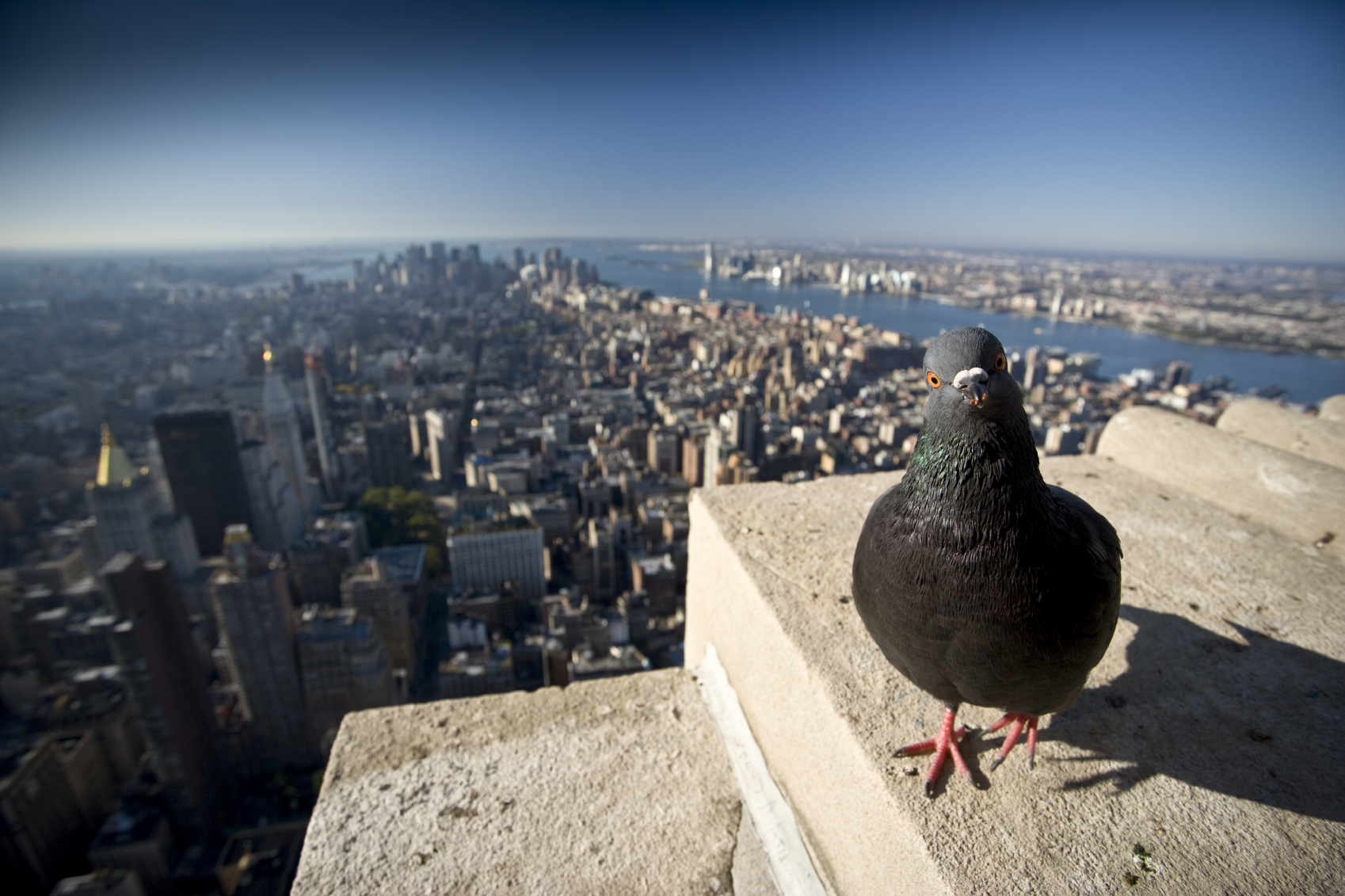 Raising (and watching) birds
Pigeons, for their prevalence in NYC, are often seen at best as nothing special and at worst as akin to flying rodents. But it turns out those gray birds that can be a nuisance to dodge on your way to the train are distinct from the domestic pigeons kept on rooftop coops by breeders. An article in the New York Times investigated this subculture, made up mostly by men, many of whom raise their avian pets for competitive flying. The hobby sounds labor-intensive—it requires extensive cleaning and care for the birds, as well as feats of engineering and plumbing to install the coops—but also unifying, a pursuit that has brought together New Yorkers of different backgrounds.
According to the Times piece, today pigeon-keeping is dying out due to lack of interest from young people, though the sport has been memorialized in the images of photographer Aaron Wojack. Meanwhile, raising another avian—chickens—is quite popular. Getting your morning eggs straight from the hen is an appealingly rustic idea, but again, keeping the birds requires a great deal of work. Chickens require more attention than bees, as this Metro list lays out, and constructing their coops and feeding them isn't cheap. For less of a commitment, consider visiting with hens by volunteering at a place like the Eagle Street Rooftop Farm in Greenpoint. 
And for those who prefer watching birds to interacting with them, the proliferation of rooftop farms has done wonders for drawing migratory birds to NYC. A 2014 study found that 37 bird species dropped in on green roofs, using them as havens within the city—something human New Yorkers can surely relate to. 
Brick Underground articles occasionally include the expertise of, or information about, advertising partners when relevant to the story. We will never promote an advertiser's product without making the relationship clear to our readers.