Ridgewood has gotten plenty of attention of late, both as a bustling neighbor to Bushwick and an M-train-adjacent oasis for the looming L train shutdown. But besides the flood of renters heading to this corner of Queens, what does the landscape look like for buyers?
Unlike many gentrifying neighborhoods, a quick search of listings will tell you that the market in Ridgewood is still in large part dominated by multi-family houses, as opposed to big apartment buildings or new construction condos. And there's a very good reason for this: "Ridgewood has one of the largest historic districts in Queens," explains NeighborhoodX founder Constantine Valhouli, who pulled comparison numbers showing the wide variety of options currently on the market in the area.
So rather than pulling down older buildings to put up new condo towers—a difficult prospect in a historic district, thanks to extra regulations—residents work with what they've got, which is, by and large, a neighborhood full of more traditional multi-family homes. 
"It has both city and national landmarks, so you'll see people repairing and upgrading existing structures, rather than tearing down old ones," he explains. Still, the neighborhood's condo units tend to go for a higher per-square-foot price than multi-families, as this chart details:

However, this type of price disparity isn't unique to the area. "You see this in almost every neighborhood—for the most part, a condo will always have a higher per-square-foot price than [other types of buildings]," Valhouli explains. This is in part because multi-families include more unusable square footage than condos (think stairwells, hallways, etc.), and because developers building condos tend to add in extra bedrooms at a relatively low overhead cost, bringing up the apartment's total value significantly without changing the total square footage.
As for prices in the area, says Valhouli, "We're heading into a 'market correction' phase of the cycle, so I wouldn't expect the upper end of the spectrum to go too much higher yet." (In other words, as prices flatten out and even drop all over the city, new records may not abound in the neighborhood just yet.) "But the neighborhood will benefit from the L train shut down [since it's off the M train], and at some point not too far down the road you'll inevitably see a story about the first Ridgewood condo that breaks $1,000 per square foot."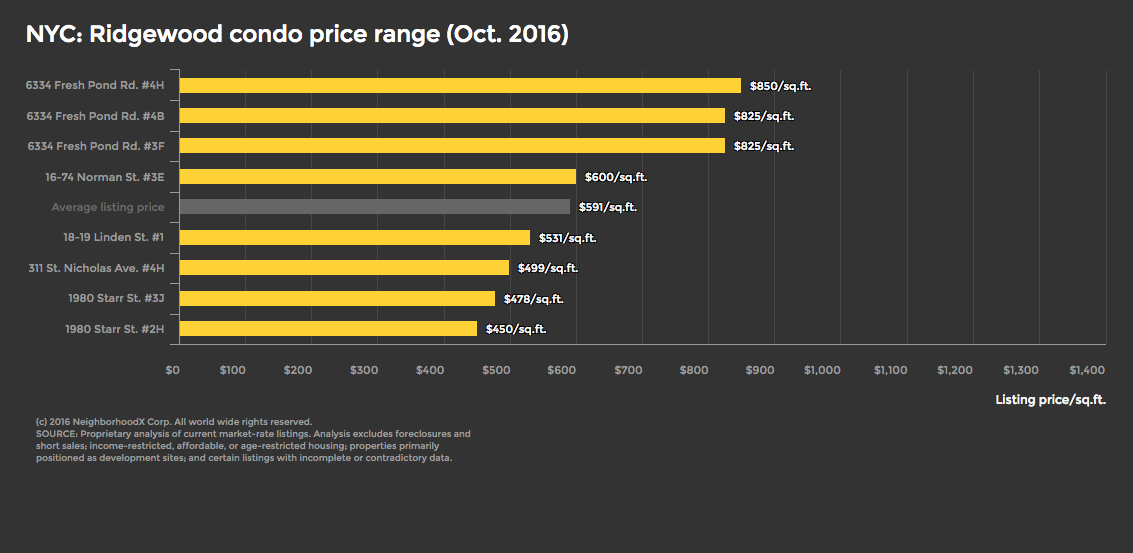 Another interesting thing to note about Ridgewood: While a relatively large chunk of Queens housing is owner occupied—around 43 percent, says Valhouli—in Ridgewood, 75 percent of residents are renters, which is nearly the same ratio as Manhattan. "Ridgewood is an anomaly to Queens, in some ways," Valhouli tells us.
Which could mean, among other things, that the area's multi-families are a smart bet for buyers in search of investment properties.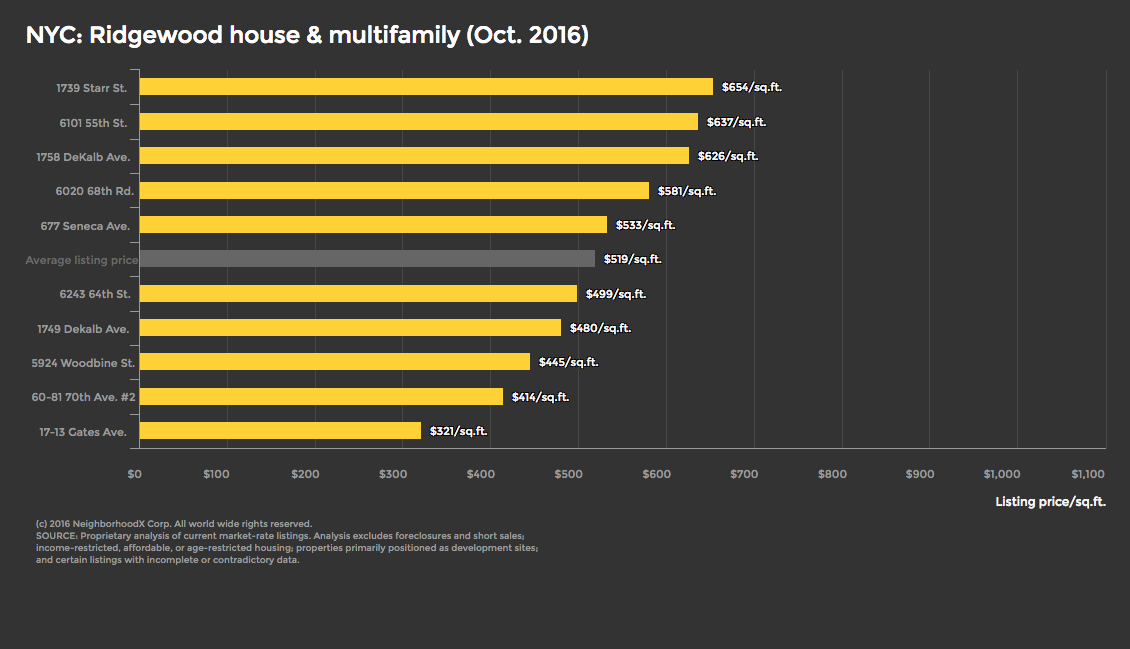 Right now, one building—6334 Fresh Pond Road has the majority of the neighborhood's higher-priced condo listings, including this one-bedroom asking $531,300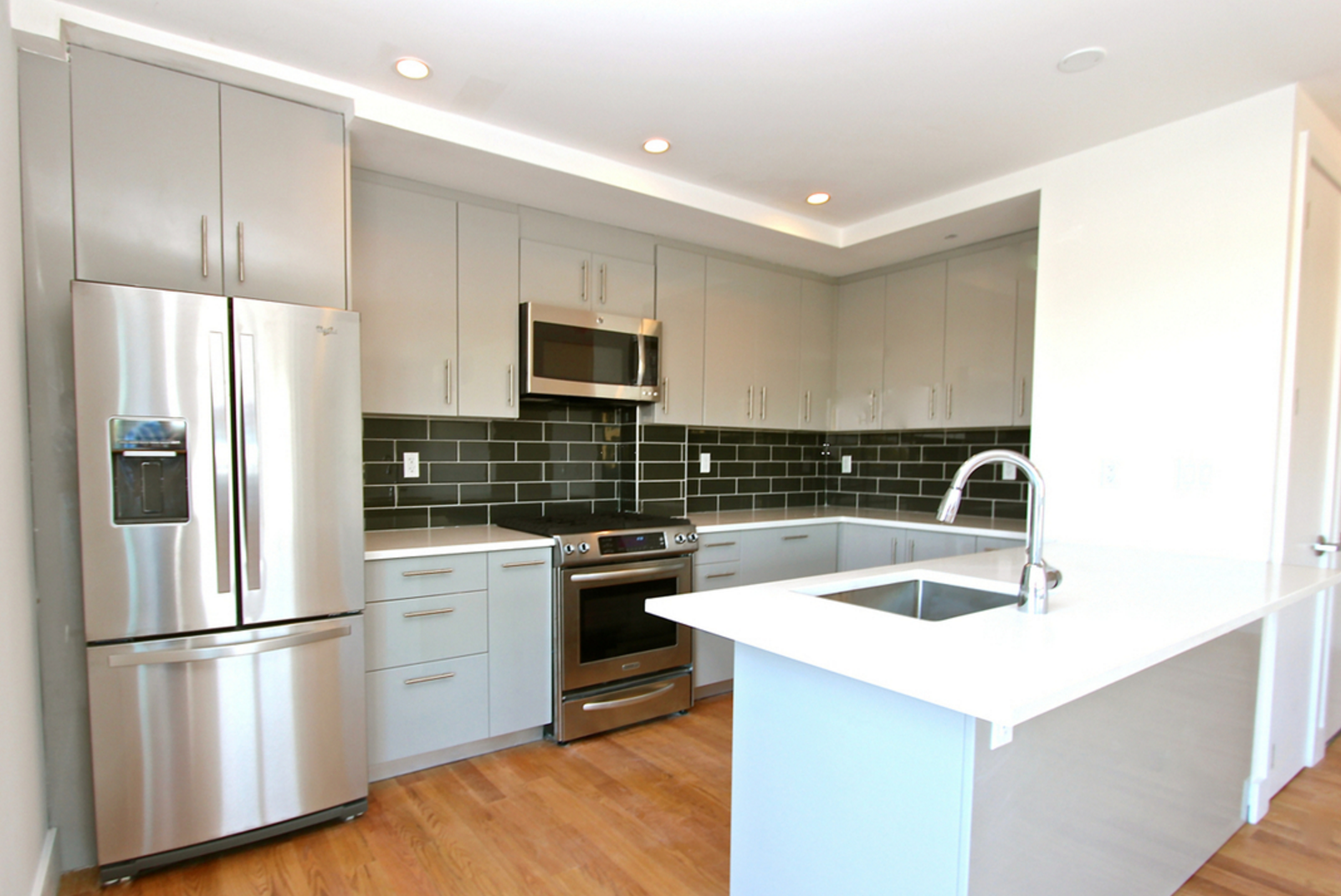 The building is a relative rarity for Ridgewood, with extras including an on-site gym, furnished roof deck, and parking, the building is an outlier for the neighborhood, which would explain the higher prices.
On the lower-priced end of the condo spectrum, you'll find options like 1980 Starr Street, which isn't a new development, but has multiple units on the market, including this $450,000 two-bedroom: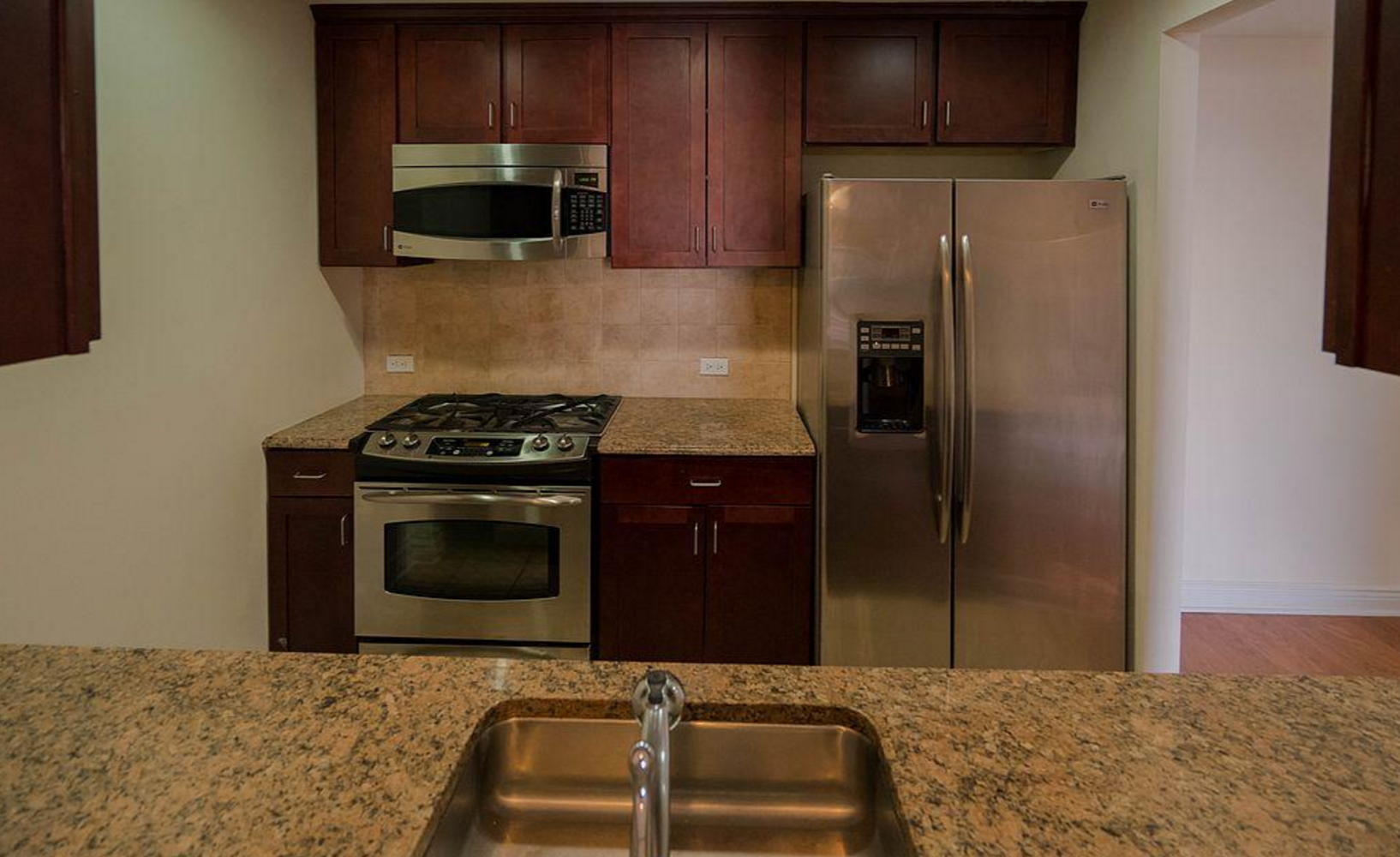 In the realm of multi-families, you'll find several properties that are set up to have at least one rental unit, many with tenants already in place. For instance, this $995,000 four-bedroom, which could use some updates to the kitchen and bathroom but, per the listing, already has the top floor unit rented out and "can easily be rented for $2,200 per month."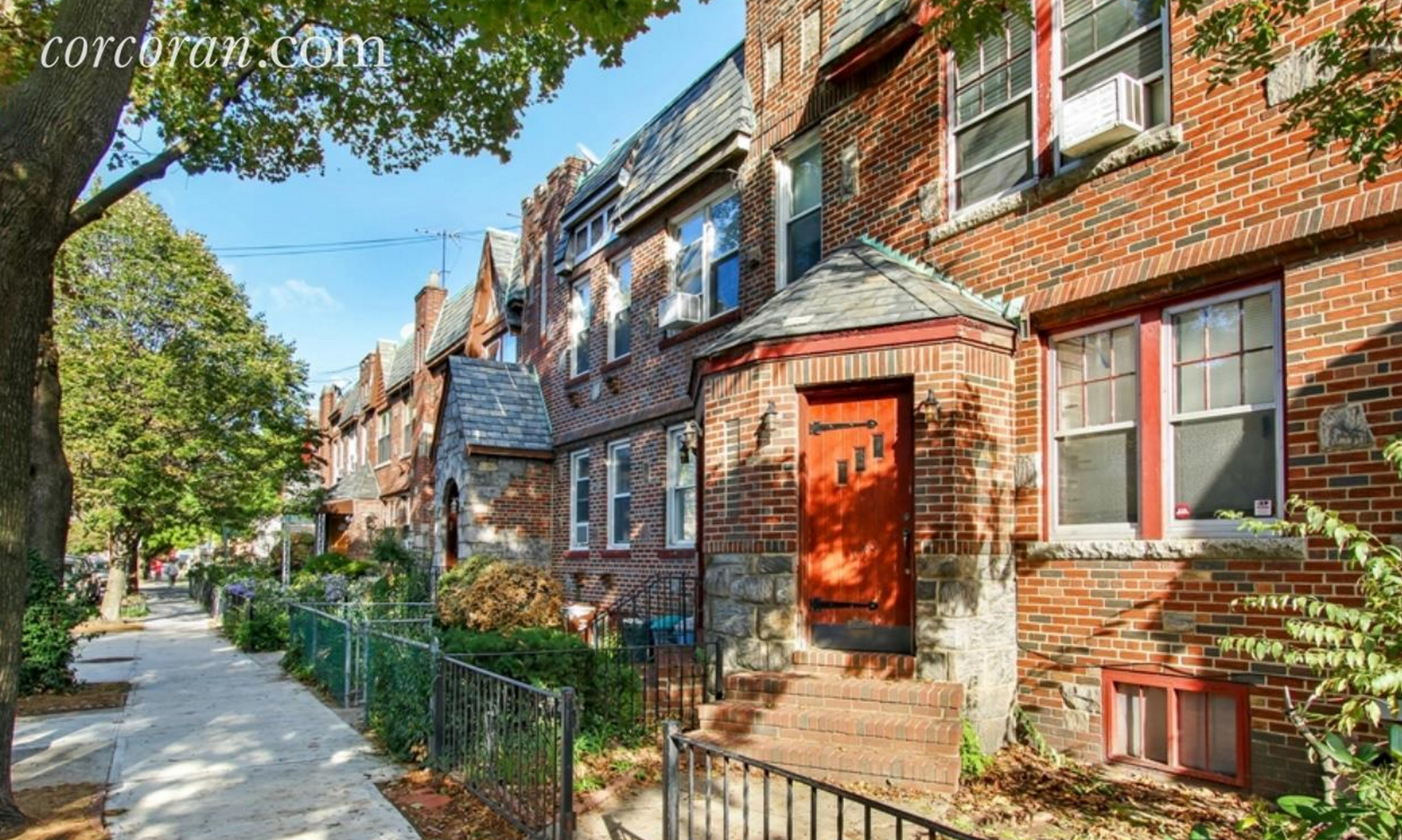 If you bump up your price range to $1.35 million, though, you can snag this four-bedroom two-family that's been fully updated, featuring a "loft style" owners unit on the top floor, and a two-bedroom rental on the ground level that also currently has tenants in place: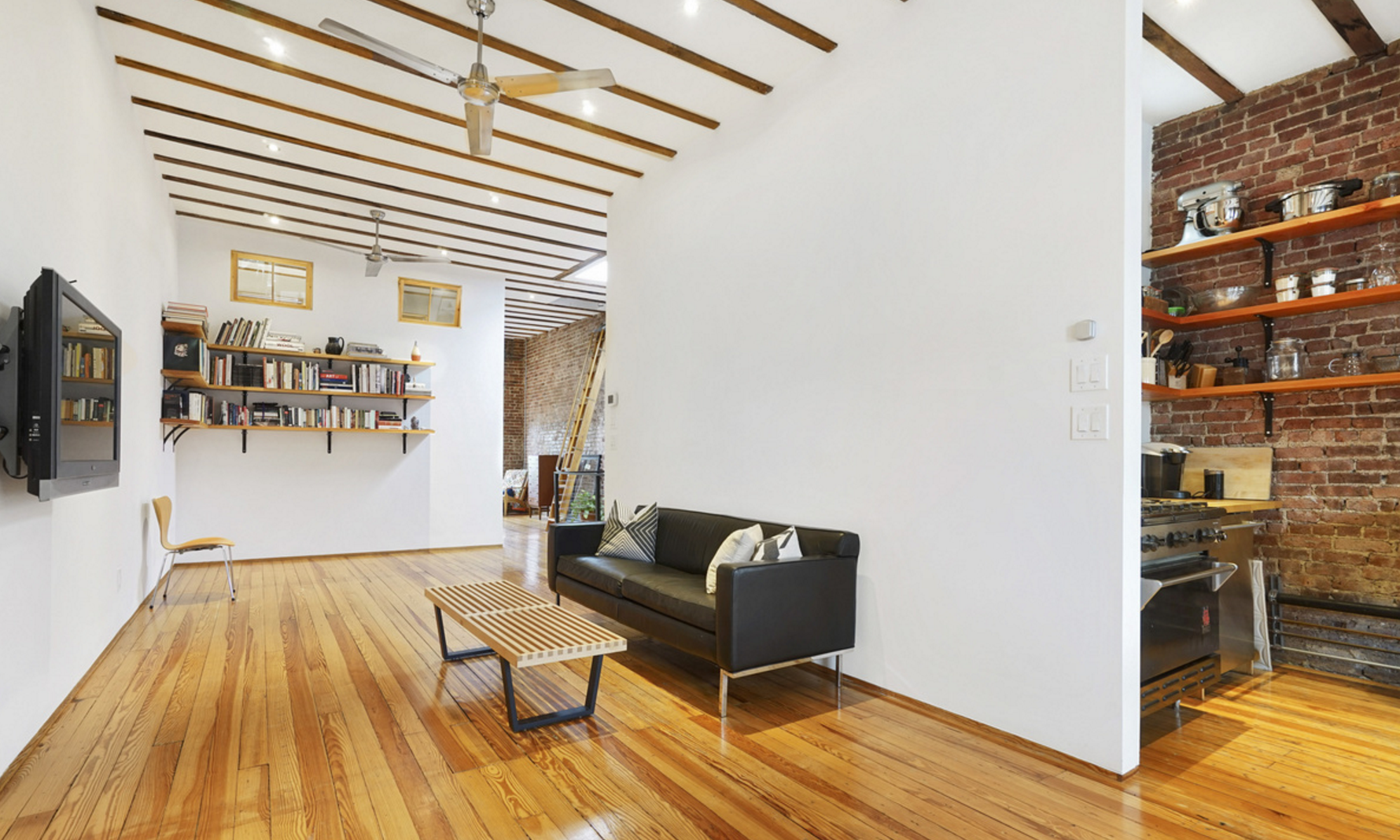 Bottom line? In a citywide market dominated by attention-grabbing condo buildings, Ridgewood is the rare neighborhood still dominated by classic multi-families—and tenants dying to rent in them.
Brick Underground articles occasionally include the expertise of, or information about, advertising partners when relevant to the story. We will never promote an advertiser's product without making the relationship clear to our readers.