Scary news if you've bought a dresser from IKEA anytime over the last 14 years: after six children were fatallly injured, the home-goods mega-store has recalled 29 million MALM chests and dressers sold between 2002 and 2016, ABC News reports. 
The problem, according to the Consumer Product Safety Commission, is that the dressers are "unstable if they are not properly anchored to the wall, posing a serious tip-over and entrapment hazard that can result in death or injuries to children." (And in the anecdotal experience of one Brick editor who's owned a MALM, the dressers are extremely prone to tipping.) Below is a chart of the dressers that are included in the recall, via the CPSC, and IKEA has a list as well.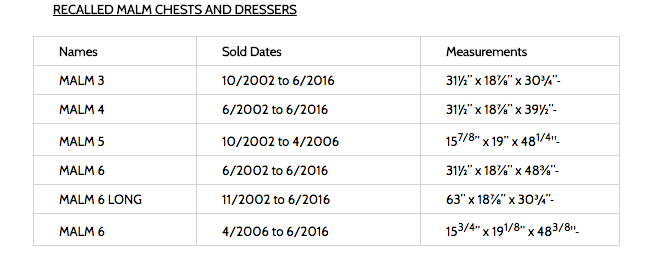 IKEA has issued a warning to customers to "please immediately stop using any recalled chest or dresser that is not properly anchored to the wall and place in an area that is not accessible to children." To that end, they're offering customers two options: either a refund, or a free wall-anchoring repair kit so that they can safely secure the dressers to their walls. If you opt for the latter option, the company has tips on safe installation here, as well as a pair of (occasionally disturbing) safety videos:

For more information, IKEA has set up an FAQ page about the recall, and encourages customers with further questions to reach out via email at secureit@ikea.com, or via phone at (866) 856-4532.