I had been eagerly awaiting Sunday night's debut of the new Lifetime series "YOU," which is based on the popular psychological thriller by Carolyn Kepnes. Not only am I a huge fan of her books, but I also have been known to watch pretty much every scary Lifetime movie ever made. (Don't judge.)
So imagine my surprise at seeing my former Yorkville apartment building and block I lived on featured prominently in the first scene. As the camera panned the street, zeroing in on the bookstore managed by the main character, native New Yorker Joe Greenberg (played by Penn Bagley), I realized it was the shop I lived over for seven years. In fact, nothing on the block appears changed, save for the names of the stores there. (In the book, the store is in the East Village, however, the series locates it in Yorkville).
[Editor's Note: When a movie or TV show is set in New York City—if the people making it are savvy enough—real estate becomes part of the story itself. In Reel Estate, we look at some of the more memorable homes to grace the screen.]
The show centers on Joe's obsession with poet Guinevere Beck (played by Elizabeth Lail), and Mooney's bookstore is where much of the action occurs—and is in essence a third main character. It is where Joe first meets Beck when she comes in to buy a book, and it is also the place where Joe (who turns out to be a psychopath) locks up Beck's boyfriend (there is a cage in the basement where rare old books are stored) to keep him from standing in the way of his own demented love for Beck.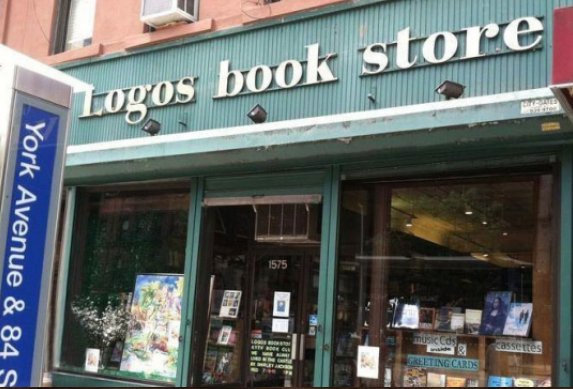 Yorkville's close up
So how accurately is the New York bookstore, which is actually called Logos, depicted? According to Harris Healy, the real bookstore's president, it's very accurate. 
Not only was the façade of his Yorkville store filmed, the front interior was also featured. And while the shop actually does have a basement where "all sorts of things are stored," it's safe to say there is no cage for human captives in it. Most of what you see happening there takes place on a set built in the Bronx, Healy says.
Actual street signs are seen throughout the first episode. But the show takes a few liberties with the neighborhood, for example, putting Magnolia Bakery on York Avenue. 
Healy says a fake subway station was created on 84th and York for the show. Imagine how property values would rise if there was indeed a York Avenue subway! 
Healy also points out something serendipitous: Logos actually sells copies of "YOU." How meta! (The bookstore will get another shot at fame in a movie starring Melissa McCarthy, "Can You Ever Forgive Me?" and also an indie flick "Havana Darkness," which will be out by Halloween in select theaters.)
How does Beck afford it?
Here's where the show hits a false note: Beck, a poetry student (no money in that!) and part-time fitness instructor lives in a glorious, sun-filled, ground-floor studio downtown at (fictional) 171 Bank Street. While the amazingly high ceilings are true to the book, it is far too nice for a struggling writer, so much so that Joe says upon first seeing it—after following her there— "Nice, too nice. I'm thinking subsidized housing." 
He may be delusional when it comes to love and relationships, but his assessment of real estate is certainly not distorted. (Later, Beck confirms her housing is indeed subsidized, and she needs to keep her grades up to keep her apartment.)
While I doubt colleges in New York City offer such amazing subsidized housing in tony brownstones in the West Village, at least her tony digs—she even has a fireplace—are explained. And throughout, the décor is spot-on as well for a poor university student; she has a very old white, non-stainless steel fridge and rundown interiors. 
An actual studio in a walkup on Bank Street would run roughly $3,000-$3,300 a month according to StreetEasy. So for someone as broke at Beck, which she repeatedly reminds viewers throughout the episode—she takes subways late at night and doesn't immediately buy a new cell to replace that stalker Joe takes from her—the fact that she lives in a housing lottery situation explains the dream digs. 
The truth about Peeping Toms
But how feasible would it be for an actual Peeping Tom to spy on her? Joe watches her often by standing across the street from her building. And Beck is an exhibitionist; she enjoys being on display for random New Yorkers that pass by her place. So perhaps Joe and Beck are a good (but creepy) match. 
Still, art often imitates life. I wrote about my own experience with a Peeping Tom that made me give up my York Avenue apartment. 
Joe apparently lives just blocks from the shop in an old tenement. This is realistic because Yorkville is filled with tenements. We see his building interior when his thuggish neighbors are fighting and leave their kid in the hallway to fend for himself. The seemingly altruistic Joe takes the young boy on a walk to the bookstore to show him some rare books. 
Salary reality check
The building Joe lives in is totally on the mark. A bookstore manager's average salary tops out at about $82,000 nationally. Joe feasibly makes more than enough to live in a modest walkup in a grungy tenement in Yorkville and still have money to pay for all his stalking needs. 
My own one bedroom located over the bookstore was listed at just $1,795 when I left in 2012. Units in that same building are renting in the low $2,000s now. 
Overall, I'd say on a scale from 1-5 with 5 being the most realistic, "YOU" scores a 4. While we all know real estate can be murder in the city, in "YOU," at least we know that it's not the real estate that is doing the killing. 
Brick Underground articles occasionally include the expertise of, or information about, advertising partners when relevant to the story. We will never promote an advertiser's product without making the relationship clear to our readers.