At first glance it appears as though this spacious Clinton Hill studio loft is $2,887 per month, as per the listing. But a closer look reveals that it's actually $3,150, but the renter will get one month's free rent. There's no broker fee, either, but keep in mind that when—and if— you renew your lease, the rent increase will be based on the gross rent ($3,150), rather than the net-effective rent ($2,887).
As you can see from the photo above, the apartment has several large windows, so light and views are probably rather impressive.
The building itself, a former chocolate factory, has an elevator, a part-time doorman, a roofdeck, a landscaped courtyard, on-site laundry, storage space, and garage parking. There's also a gym and organic market downstairs.
The apartment:
Size: Studio, one-bath
Location: 275 Park Avenue (between Waverly and Washington), Clinton Hill, Brooklyn
Monthly rent: $3,150/month (with one month free, net effective is $2,887), no broker's fee
Flexible layout: Yes
Days on the market: 3
Subway: G at Clinton-Washington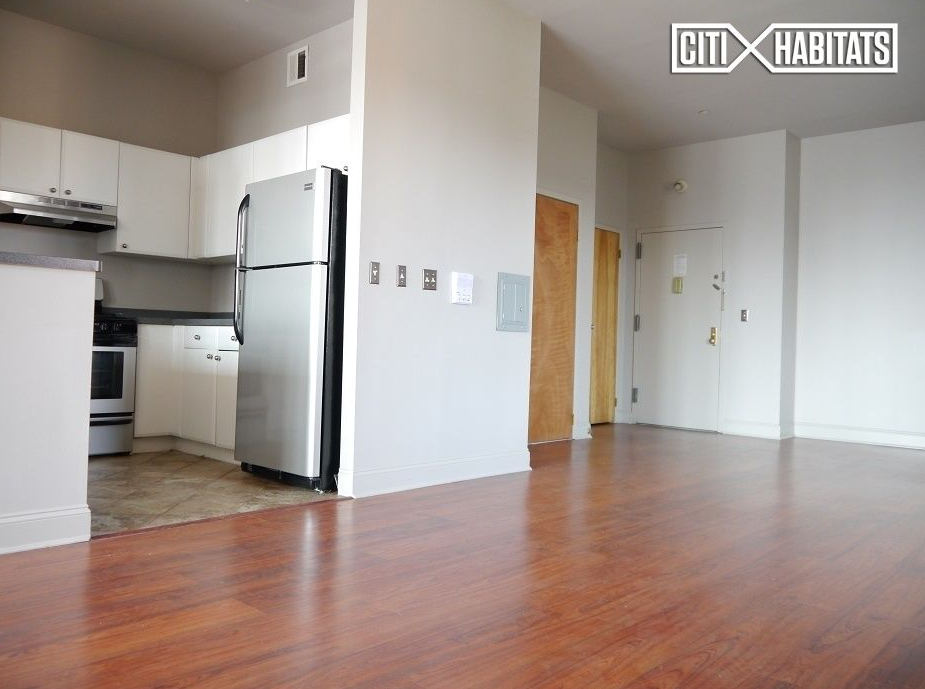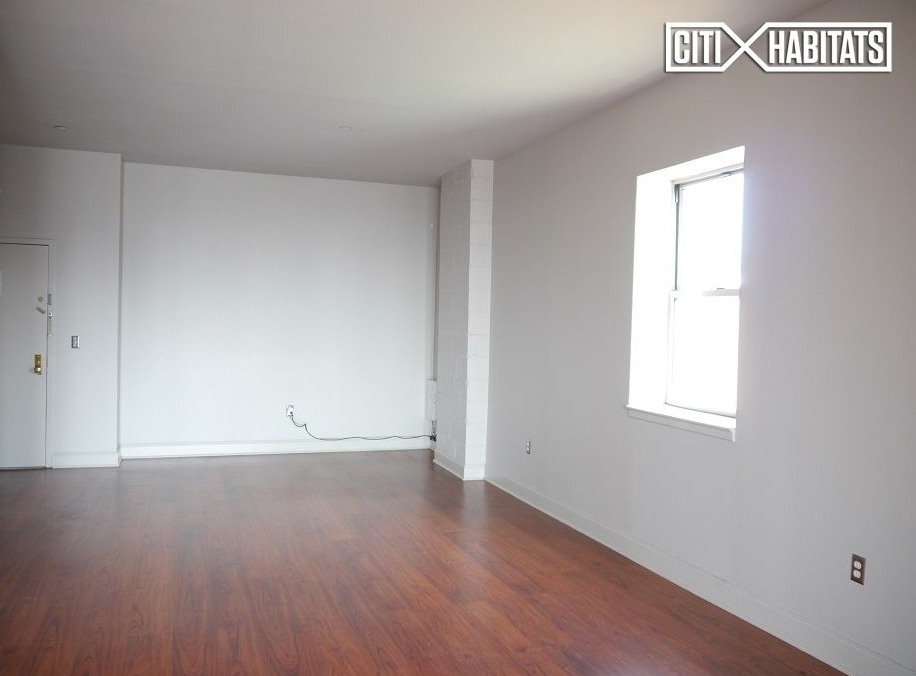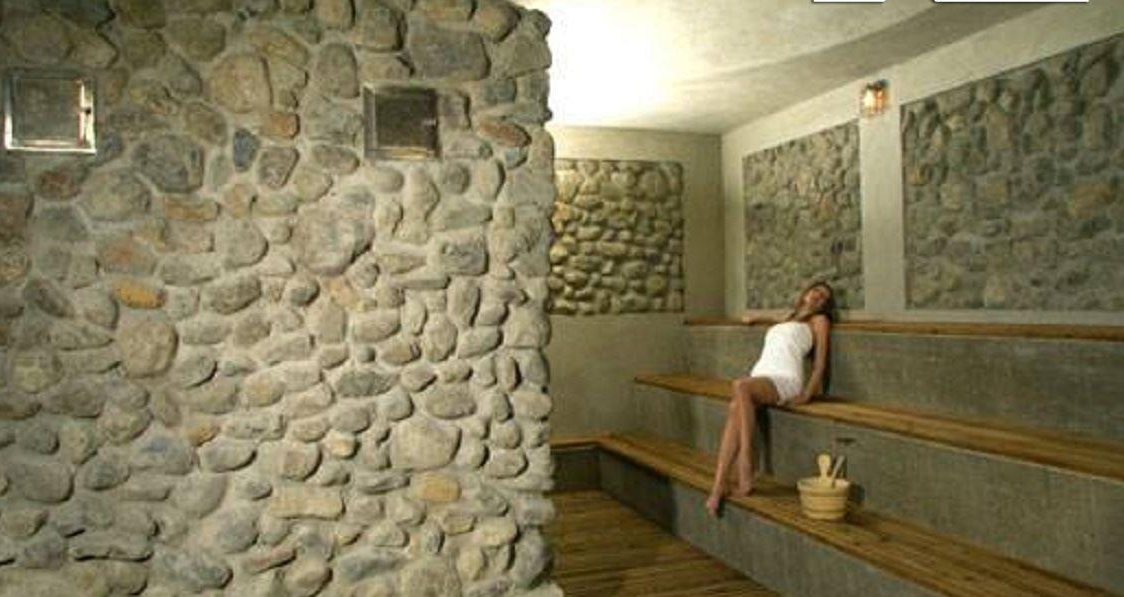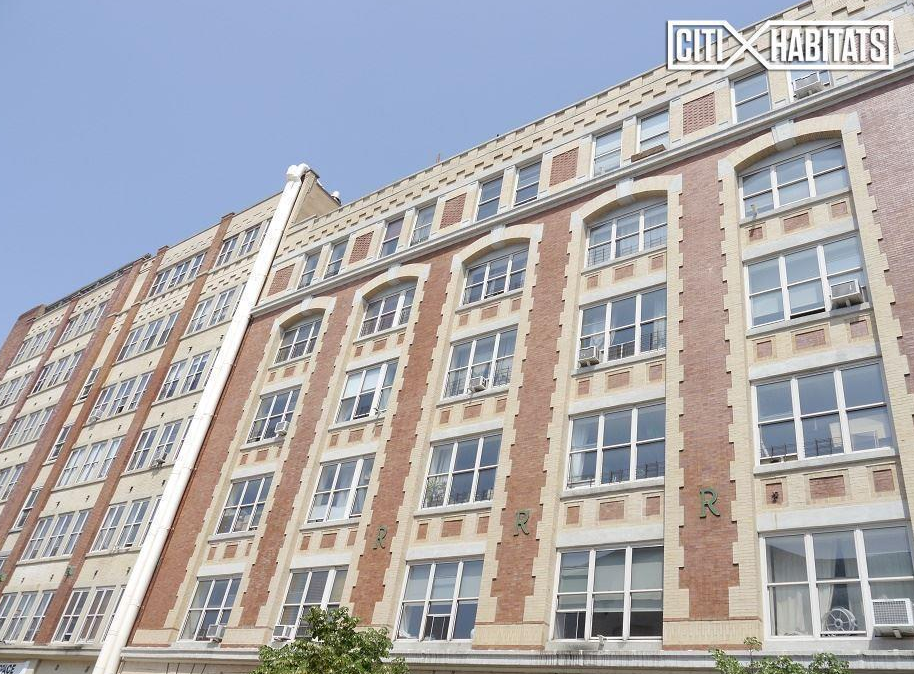 Pros and cons:
"I appreciate the high ceilings and those large windows, but everything else in the apartment is rather underwhelming. Plus, the cost is just too high to walk nearly half a mile to the G every day (not NYC's most convenient train, after all)." —Lucy
"That sauna (although it doesn't say if it [requires] an additional fee beyond the rent) is cool. The listing talks about original hardwood floors, but the photos show newer (and likely engineered wood) ones. The neighboring businesses, Crossfit Outbreak, sounds like some kind of virus horror movie. And 'several dry cleaners' as a neighborhood amenity isn't selling me on the district." —Constantine
"Prepare to never leave your building (or the neighborhood) if you sign the lease for this studio—I mean do you really need more than an organic market, wet lounge, and spa and kickboxing studio all conveniently located right downstairs? The downside: Almost $3K a month for one room is a big price to pay for such conveniences." —Lambeth
Who this apartment would be perfect for:
"Someone who works from home or doesn't mind being far from the (less-than-ideal) subway for any other reason." —Lucy
"Someone who really digs saunas. And dry cleaning." —Constantine
"A loft lover who's eager to watch the evolution of the Brooklyn Navy Yard—or just check out the sunsets over the Manhattan skyline from the stunning roofdeck." —Lambeth
The verdict(s):
LEAVE IT "The price is too high, period. The building's amenities are okay but not over-the-top enough to warrant the rent." —Lucy
LEAVE IT...MAYBE "The asking rent was recently lowered from $3,150/month to ... $3,150/month. Except using the magic of no brokerage fee and one month's free rent to look lower at first glance. Meh. This one is a definite maybe."—Constantine
LEAVE IT: "Though it would be pretty cool to say that you live in a former chocolate factory all the nearest subways are over a half-mile away." —Lambeth