Unless you've been living under a rock, you've probably heard about Hudson Yards, the city-within-the-city starting to take shape on the far west side. And while this place isn't technically within that development, it's right nearby—on 36th between Ninth and Tenth avenues. The $2,398 per month one-bedroom, one-bathroom (no broker fee) has exposed brick galore and new stainless appliances.
Note: the advertised rent for this apartment is the net effective rent, taking into account one-and-a-half months free on a one-year lease. 
So is it worth considering? We asked our experts (and veteran renters), real estate research and analytics firm NeighborhoodX's founder Constantine Valhouli and freelance writer Lambeth Hochwald, to weigh in with me on this week's Take It or Leave It.​
The apartment:
Size: One-bedroom, one-bath
Location: 410 West 36th Street (between Ninth and Tenth avenues)
Monthly rent: $2,398/month
Flexible layout: No
Days on the market: 5
Subway: A,C, E at 34th Street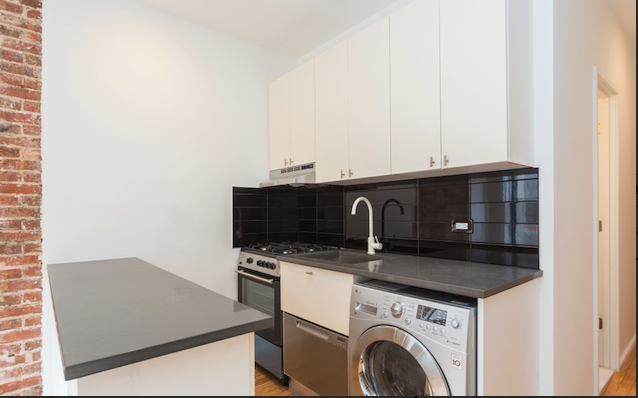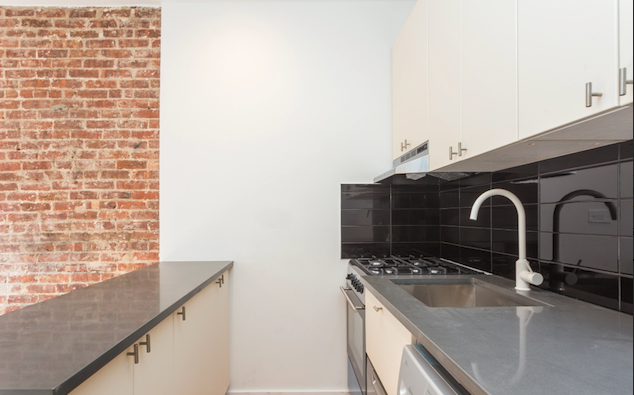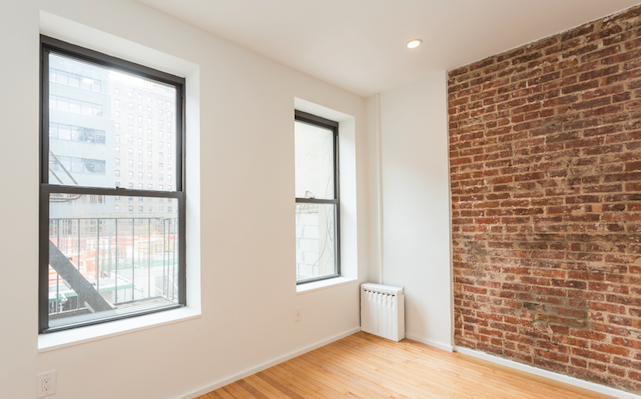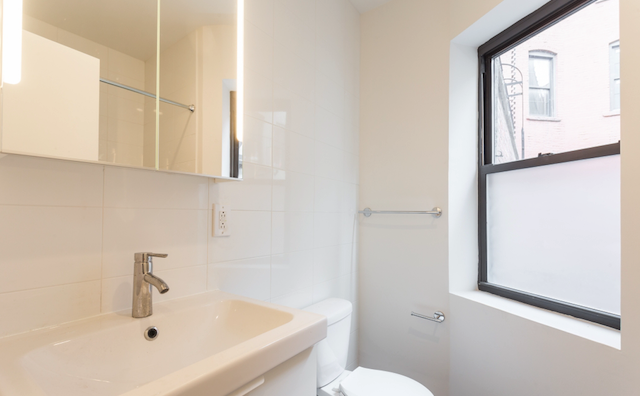 Pros and cons:
"Clearly the kitchen is the big draw in this apartment since there are so many photos of it. The appliances are new and we see a washer and dryer! The exposed brick is a charming touch, too. That said, the bedroom is a strange size (not sure how well furniture would fit in there) and rent is pretty high for a no-frills building, which we imagine is a walk-up." —Lucy
"You know you're a New Yorker when your idea of 'luxury' is no longer a view or a doorman, but just a washer and dryer in the unit. This listing offers that. And the renovation itself seems nice for this price point. Cons: The listing seems incomplete, and possibly a bit disingenuous. First, the neighborhood: The listing identifies the property as being in Hudson Yards. But Hudson Yards refers to the new development of massive towers using the air rights over the train platform. This isn't Hudson Yards. It's an older walk-up in Hells Kitchen. Second, there is no square footage listed. It is difficult to make an informed decision without that. Third, the listed rent of $2,398/month is actually the net effective rent reflecting a concession of 1.5 months of free rent. The unadjusted rent is $2,740/month. But the rent concession and lack of a broker fee reflect the softening rental market conditions seen across NYC and other major cities. Why does this matter? Because the higher number will be the starting point for rents next year, so residents may expect a significant potential rent hike." —Constantine
"Holy kitchen appliances, Batman! I've never seen so many brushed aluminum appliances all in a row like the ones in this nicely done reno. My only concern is that I might put a batch of brownies into the washing machine instead of the oven." —Lambeth
Who this apartment would be perfect for:
"Someone who's looking for a one-year lease (make the most of that month and a half off!)" —Lucy
"Anyone who works in midtown west and would like to walk to work. Or someone who would like to enjoy the upper end of the High Line and the Hudson River Park blocks from their apartment." —Constantine
"Someone who is counting down the minutes until Hudson Yards opens and wants to be within a quick walk away from this mega-shopping development." —Lambeth
The verdict(s):
LEAVE IT: "It's pricey and no-frills. Plus the neighborhood is not bustling.... yet." —Lucy
TAKE IT: "The price makes it compelling for one year." —Constantine
LEAVE IT: "Unless you want to live in a walk-up in the shadow of both the Port Authority Bus Terminal and the Lincoln Center on-ramp. There are lots of new buildings in the area with doormen and more amenities than just an in-unit washer and dryer." —Lambeth