As I was dropping off my daughter at her day camp at the Textiles Art Center on Degraw Street in Gowanus, I overheard a snippet of conversation between two young women as they passed me on the sidewalk. "There are so many celebrities moving into this neighborhood," one remarked.
My head whipped around in search of celebrities. I didn't see any. There was no one fancy picking up coffee at Root Hill Cafe or getting their car serviced across the street. I'm not sure I would have recognized anyone famous, anyway.
But whether there are celebrities or not, there's a lot going on in Gowanus. As a Park Slope resident, I find myself heading down here a lot these days, taking my younger daughter to dance classes, art programs, and birthday parties. And no, it doesn't smell. Apparently, the completion of a dredging project near Whole Foods on Third Avenue took care of that.
After years of talk, there's lots of new development along Fourth Avenue. New condo and rental towers line the wide street, some with floor-to-ceiling windows. But development hasn't eroded the artsy/industrial feel to the area that marries brightly colored murals and auto body shops.
Want a sense of what's on the market here? This three bedroom, one and a half bath, 479 Third Ave., #3F, has central air, a balcony, laundry on-site and a large roof deck. The kitchen has stainless steel appliances and granite counters. It is asking $4,050, so it's almost at the $4,000 median rent for a three bedroom, according to StreetEasy. There is no fee.
It's hard to tell how large the rooms are here—there's no floor plan or square footage provided. The apartment is in a three-story, 1901 renovated building just a few doors away from the elevated tracks that serve the F and G trains, so it's probably noisy outside, albeit convenient. The R train is below ground here too.
Gowanus is a big area, it stretches from Butler Street in the north to Gowanus Expressway in the South. The north section has more going on—this apartment is in the south, however, they're only one subway stop apart.
As always, when weighing New York City apartment listings, we turn to our Take It Or Leave It experts: Constantine Valhouli, founder of real estate research and analytics firm NeighborhoodX, freelance writer Lambeth Hochwald, and myself.
 But first, here are more pictures of the place.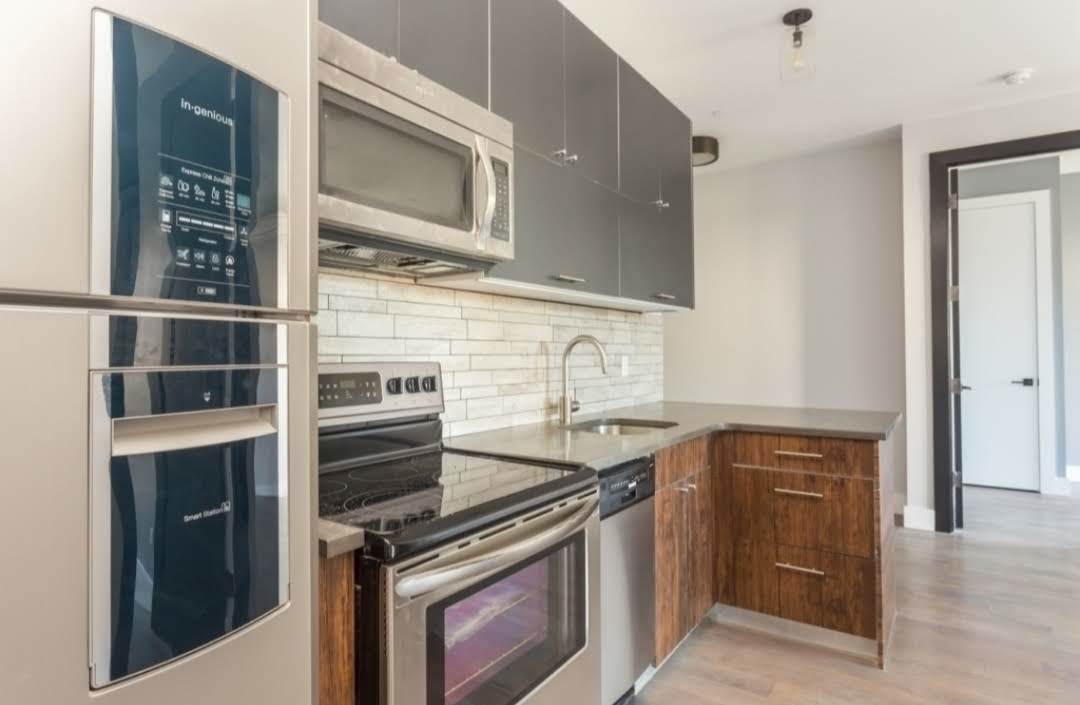 Pros and cons
"There's lots to like about this Gowanus three bedroom and I'll start with the to-die-for deck. Happily, this neighborhood has so much to offer (and we're not just talking about the massive Whole Foods) so I won't judge this place for its seemingly small rooms."—Lambeth Hochwald
"Not that long ago, Gowanus was considered the real estate equivalent of the 'my kids are outside for three to five minutes and they get surrounded by 40-50 feral hogs' meme. But with New York City real estate, there's typically a five-year cycle between feral hog and charcuterie board. And here we are." —Constantine Valhouli 
"Any neighborhood where people can afford to live and make art (and make their living making art) is exciting to me. Yes, there's lots of big, new buildings, but historic buildings are also being revived, such as the Whole Foods-funded restoration of Coignet Building, a landmark. Buildings like the new home of Dancewave, a dance studio, have these great murals on them. There's a lot of energy here." —Jennifer White Karp
Whom it's perfect for 
"A work-from-home couple who have a baby or one on the way. This place is a great place to start your Gowanus adventure!" —Hochwald
"It's surprisingly nice for this price. In the vein of the 'you had me at hello' from whatever that movie was a while back [Editor's note: That would be "Jerry Maguire"], this apartment had me at 'air conditioning.' Three friends each paying under $1,400 a month for a gut reno...with central air conditioning? The only downside here is that they won't go through the character-building experience of needing to wake up on mid-August morning in a hot tenement immediately needing to drink a half-gallon of coconut water just to replace the electrolytes lost to sweating overnight. (Or, they just experienced that and are ready to never.experience.it.again.)" —Valhouli
"The half-bath makes this apartment work for either a family or roommates. There are several features you don't always find in a rental (dishwasher, microwave, and of course central air) that make this place a find at this price." —White Karp
Take it or leave it
TAKE IT. "Snap it up quickly before it's too cold to dine al fresco. " —Hochwald
TAKE IT.—Valhouli
TAKE IT. "Be your own celebrity." White Karp