January's cold weather likely makes you want to avoid the outdoors as much as possible. If you're in the market for new NYC rental apartment, a building with lots of amenities to keep you entertained and healthy is especially attractive this time of year.
Turns out, loading up high-end rental buildings with amenities is how NYC developers improve the desirability of locations that are less than prime, say overlooking a highway, or in the case of this building, the Long Island Rail Road. And that means you can get more for your money.
This spiffy two bedroom, 1247 Atlantic Ave., #33041, on the border of Bed-Stuy and Crown Heights, is not only just across the street from the elevated commuter railroad—it's also directly across from the station at Nostrand Avenue. You would be well advised to hang around and see how loud it is when trains pull in and out of the station. (For some people, this would be a deal breaker, for others, it's just city life.)
So if you can handle the sound of the train above and busy Atlantic Avenue outside, you get a new (2016) building with a pool (not built yet), rooftop gym, laundry, bike room, and rec room. The apartment has central air, a dishwasher, balcony, and stainless steel appliances. Pets are allowed. 
This two bedroom has a split layout, meaning the bedrooms are on either side of the apartment. The gross rent is $3,200 with 1.5 months free and no fee, so it's pricey for the neighborhood. (The median asking rent for two bedroom in Bed Stuy is $2,400).
Other pluses: The A and C trains are two blocks away on Fulton, and there's lots of good eating nearby, with restaurants serving Caribbean, Cuban, Cajun, southern, Mexican, West African, and Chinese cuisine.
So would the location be a deal-breaker for you, or not?
As always, when weighing New York City apartment listings, we turn to our Take It Or Leave It experts: Constantine Valhouli, founder of real estate research and analytics firm NeighborhoodX, freelance writer Lambeth Hochwald, and myself.
But first, here are pictures of the apartment and the building.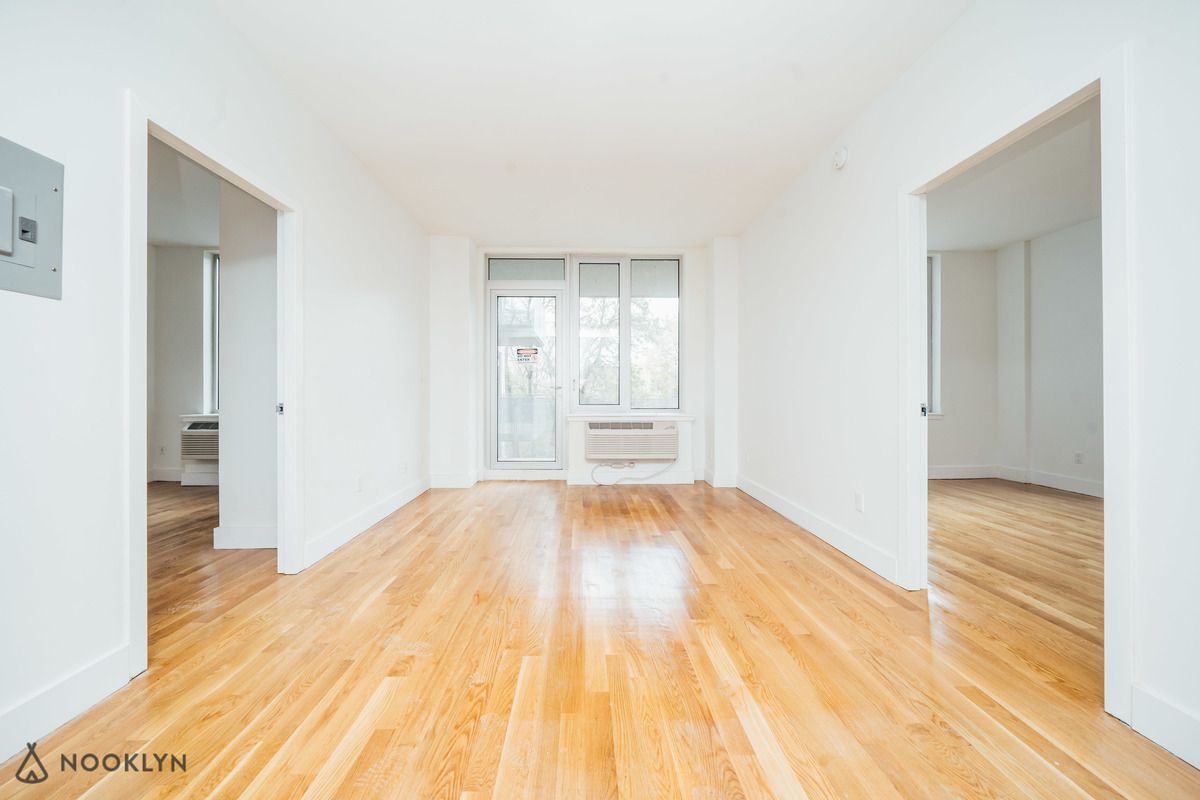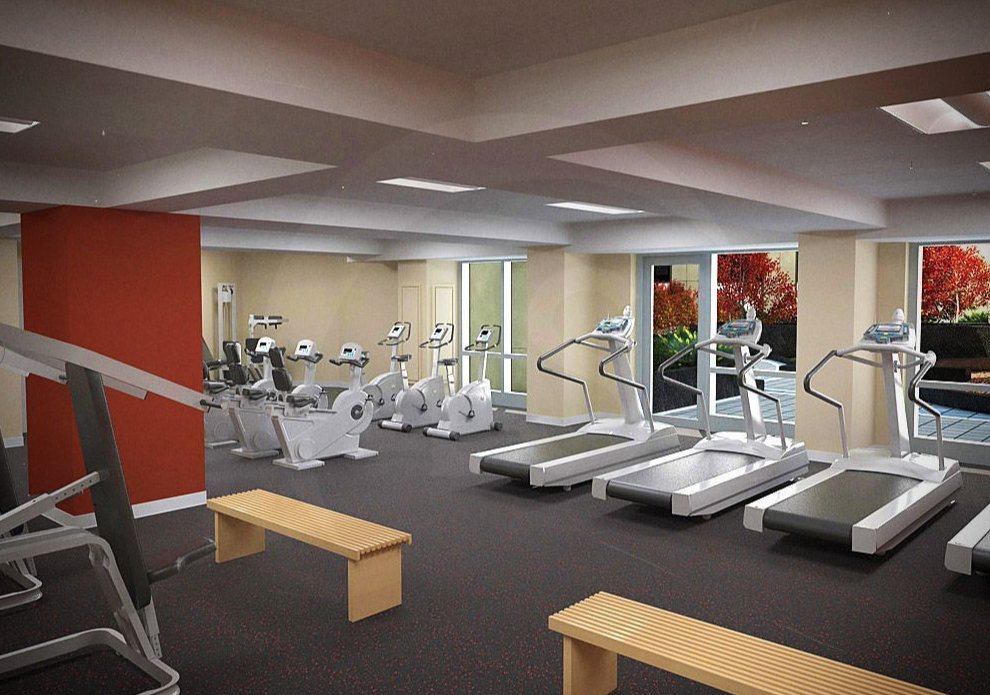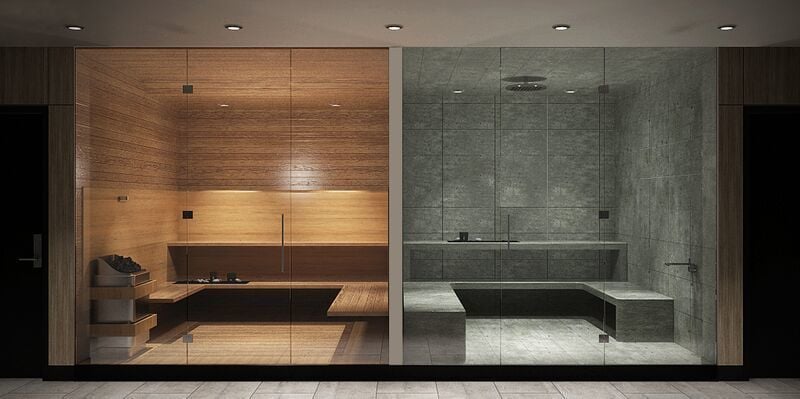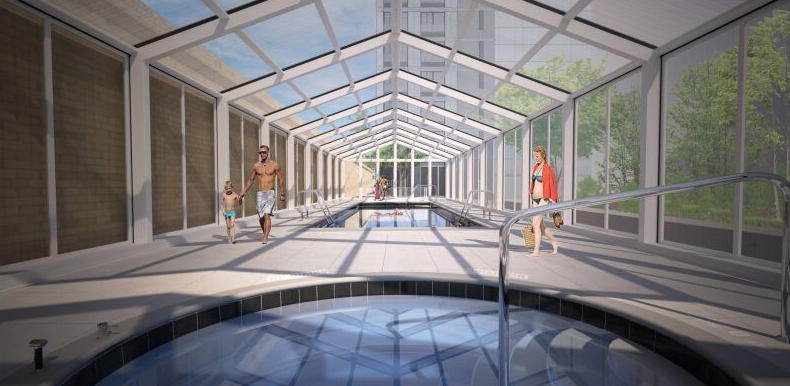 Pros and cons
"There's little to complain about when you look at the photos of this supremely mod Brooklyn two bedroom, especially the pool, sauna, and floor plan that's almost suburban in its expansiveness. Trouble is, location location location. This may be Atlantic Avenue, but it's not exactly where gentrification is at its max." —Lambeth Hochwald
"That sauna. Maybe it's just this past few weeks of bone-chilling winds, but coming home to that makes the city doable. There are a lot of other beautiful and thoughtful touches—the kitchen and bathroom evoke the balance and proportion of classic NYC apartments while maintaining a contemporary feel, and the interior layouts look like they have a good flow as well [tips hat to the architects and designers] because a lot of good thinking clearly went into this. Also, the hallways feel futuristic, so you can pretend you're on the Battlestar Galactica when you've got your fuzzy bathrobe on, heading to the sauna." —Constantine Valhouli 
"Why can't more developers put in saunas? Can't we all just be Swedish? These seem like such a simple and healthy amenity. Everything here seems well proportioned and thoughtful—like the split layouts, high-end kitchen, large gym, and outdoor spaces. I would have concerns about noise—automated announcements on LIRR platforms are very loud, and the train doors chime when they open and close, so if that's audible from this building, no dice." —Jennifer White Karp
Whom it's perfect for 
"A reverse commuter happy to be mere steps from the Nostrand Avenue LIRR stop." —Hochwald
"I'm working on a new theory that there's a Myers-Briggs type for cities and buildings. Some buildings have a rich inner life and they don't interact much with the street around them. This is one of those introvert buildings, where you've got all the amenities inside. On second thought, this analogy needs work, but at $1,400 per roommate, you can't go wrong." —Valhouli
"I think this is a great set up for roommates—because there's plenty of places to hang out and give each other room to breathe." —White Karp
Take it or leave it
LEAVE IT. "Unless you are truly going to take advantage of each and every amenity." —Hochwald
TAKE IT. "Take it, Commander Adama." —Valhouli
TAKE IT. "As long as rush hour doesn't bother you." —White Karp