From the lobby, buildings that have private, keyed elevators don't look any different from buildings with more traditional hall entryways, so first-time visitors to these kinds of buildings are often surprised to find themselves looking right into your apartment when the doors open.
But that's not all guests to this apartment, 2417 Albemarle Rd., #11BC, in Flatbush may find surprising: This 2016 building, Hello Albemarle, has a very modern, industrial vibe, and apartments have polished concrete floors, concrete walls, and black and white kitchens. There are lots of upscale amenities here: The apartment has central air and heat, a washer/dryer, Bosch appliances, and a balcony. The building has a rear deck, bike storage, and Manhattan-like underground parking.
It is asking $2,274 with six weeks free on a 12-month lease. There is no fee. (Median asking rent in Flatbush for a one bedroom is $1,795.)
With all that this rental has going for it, what is surprising are the fibs found in the StreetEasy listing, such as the claim it has "views north to Manhattan and south to the Atlantic Ocean." (No, you can't see as far as Manhattan and the Atlantic at the same time from the middle of Brooklyn). Also, a rendering of the exterior shows the building in a suburban setting, with no tall buildings around, when in fact it is in a dense neighborhood with schools, stores, and churches.
The immediate neighborhood is kind of dreary, but the building is close to Flatbush Avenue, which has lots of shopping, and a few blocks from the rehabbed Loew's Kings Theatre. It's not far from Cortelyou Road, which has restaurants like The Farm on Adderley and Mimi's Hummus. It's a short walk to the B/Q train at Church or Beverly or the 2/5 trains at Church.
So what's the verdict on this apartment? Cold or cool?
As always, when weighing New York City apartment listings, we turn to our Take It Or Leave It experts: Constantine Valhouli, founder of real estate research and analytics firm NeighborhoodX, freelance writer Lambeth Hochwald, and myself.
But first, here are pictures of the apartment.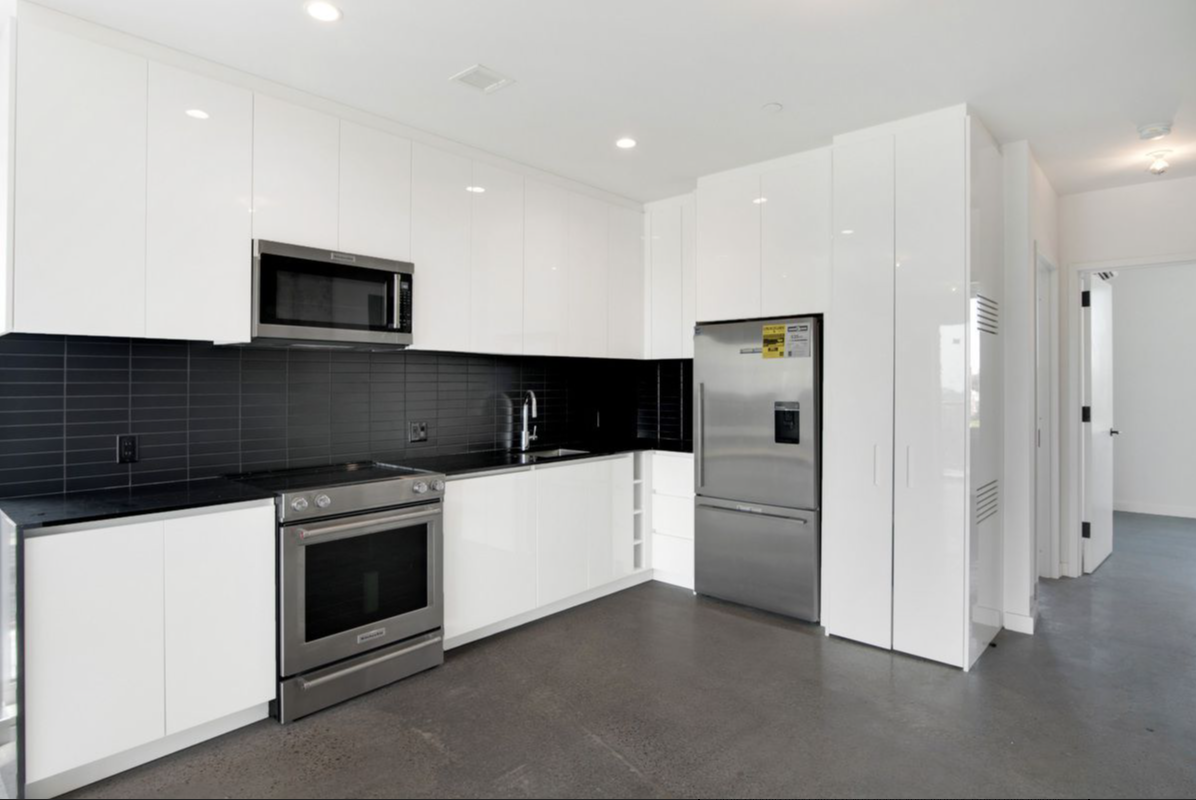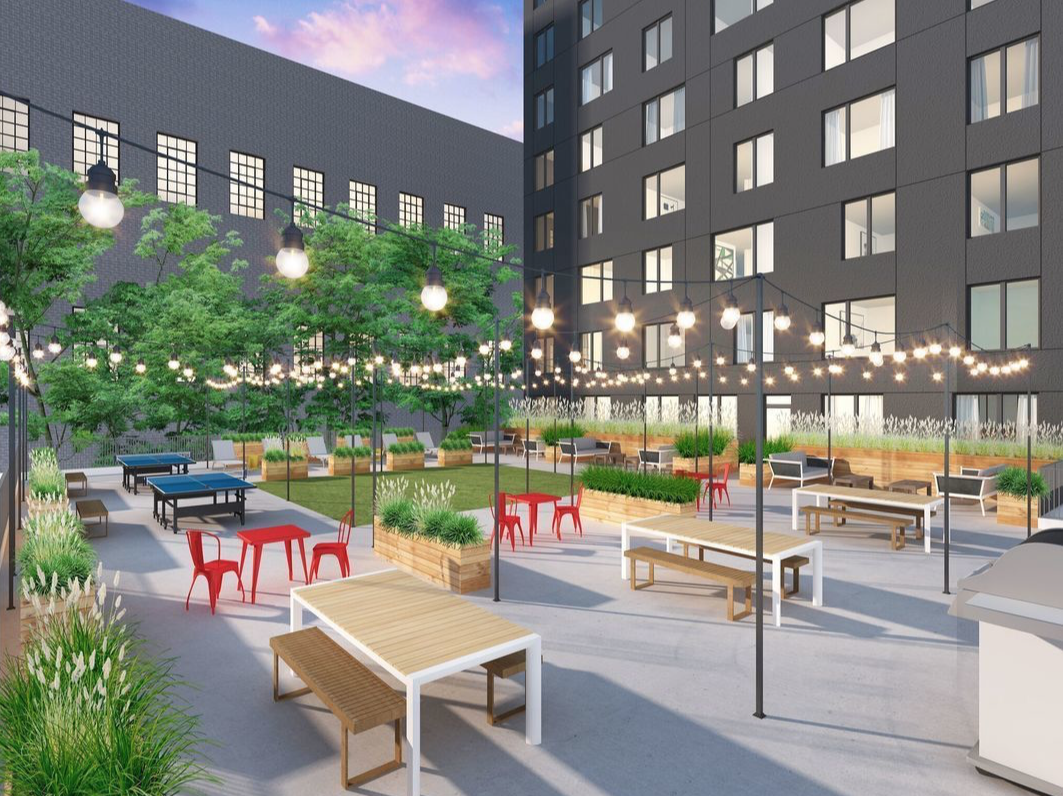 Pros and cons
"There's industrial style and then there's just too-far-out-there to appreciate industrial chic. This one, sadly, falls into the category of too frosty and icy for my taste." —Lambeth Hochwald
"As a market observer, it was only a matter of time before Flatbush began to gentrify. But it's in that early phase, and this is the nice building in an area that's Not Quite There Yet (NQTY isn't an industry acronym, but it ought to be). The pros: This is a gorgeous and thoughtfully designed building. The cons: It has to be, because there's not much else around it yet. And even with the six weeks free (I'm making a dismissive French sound at this: pofffff), you'll be channeling your inner Dr. Frank-N-Furter waiting for the neighborhood to evolve during the term of your lease: Antici............pation." —Constantine Valhouli 
"It's exciting to see an industrial look at this price, and the amenities at this apartment make it very attractive. I agree the area is not much of a destination, but you're a short ride away from lots of great places, like restaurants in Ditmas and Prospect Park. Plus you can park right under the building if you have your own car." —Jennifer White Karp
Whom it's perfect for 
"An apartment dweller who appreciates the antithesis of prewar." —Hochwald
"Someone who wants live in a building with (some) amenities, and maybe work in downtown Brooklyn. You like looking in the direction of the ocean but don't want to be too close to it, because of the frigging Great White Shark nursery off Long Island." —Valhouli
"If you work at Kings County Hospital, SUNY Downstate, or Erasmus High School, you could walk to work." —White Karp
Take it or leave it
LEAVE IT.  "This place is pricey for a one bedroom this far from Manhattan." —Hochwald
TAKE IT. "But negotiate a reduction in rent. Six weeks? Poffffff." —Valhouli
TAKE IT. " Enjoy a place that doesn't look all the other white boxes out there." —White Karp