If you're hunting for a rental apartment, you should know there are a lots of rental apartments available in New York City right now, so landlords are more willing than ever to offer you some kind of deal in order to lock you into a lease. This is especially true in North Brooklyn, where the L train shut down that begins in April will make getting to Williamsburg a real hassle. But Williamsburg is not the only game in town.
Greenpoint, in North Brooklyn, is just a few blocks from Williamsburg. It's got lots of fun places aimed at a 20-something "Girls"-watching crowd, and as well as rich cultural vibe, thanks to its Polish immigrant community, the second largest next to Chicago, as well as its Latino and South Asian populations.
The area is mainly served by the G train, which doesn't go into Manhattan. But if that doesn't deter you, consider this one-bedroom, railroad-style apartment at 644 Leonard St., #3R, which can be converted to a two bedroom. The apartment has updated appliances, refinished floors and a windowed bathroom, and there's a washer/dryer in the unit. It's asking $3,000 for an 18-20 month lease, which is very high for the neighborhood median for a one bedroom, which is $2,450, as well as the median for a two bedroom, $2,700, according to StreetEasy.
So how would you like living here?
As always, when weighing New York City apartment listings, we turn to our Take It Or Leave It experts: Constantine Valhouli, founder of real estate research and analytics firm NeighborhoodX, freelance writer Lambeth Hochwald, and myself.
But first, here are pictures of the apartment.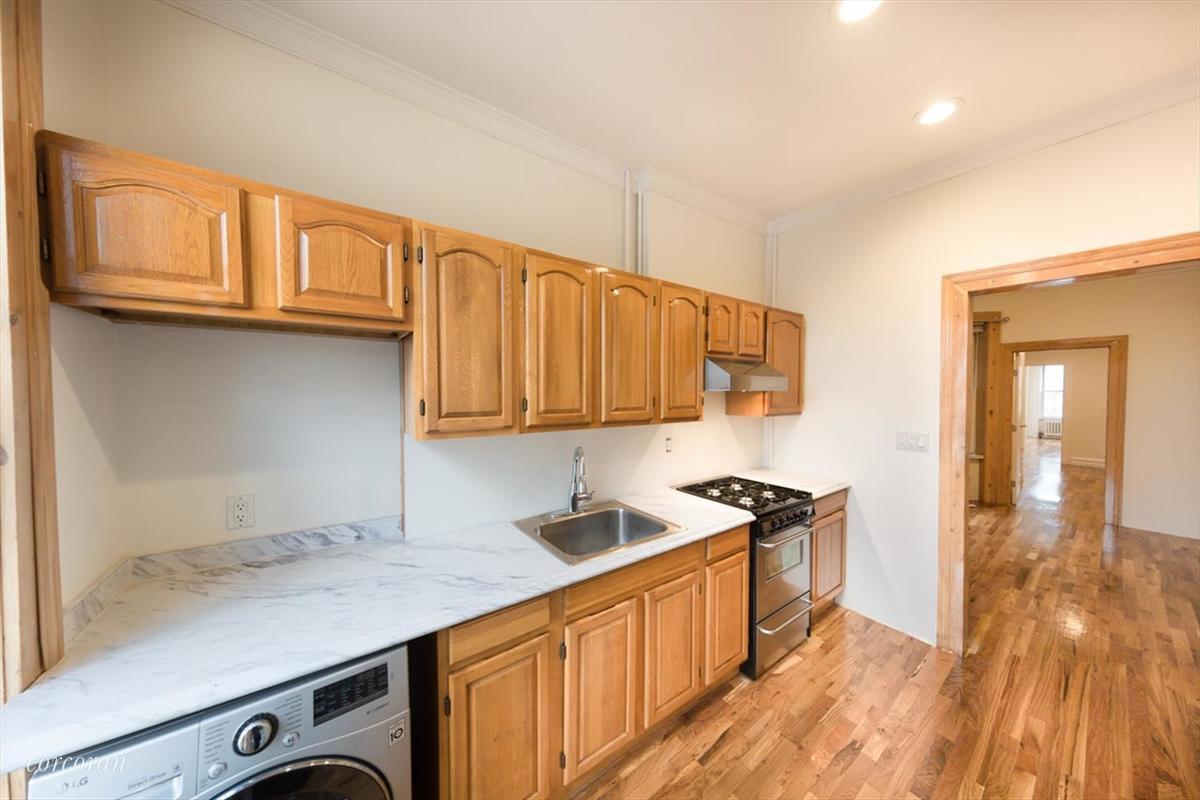 Pros and cons
"There's something so shiny and renovated about this Greenpoint two bedroom that makes it awfully appealing, but beware anyone who tends to get up in the middle of the night to use the bathroom—according to the floor plan of this railroad apartment, you're going to have to walk an awfully long path (through the home office and second bed) to get there." —Lambeth Hochwald
"It's amazing how the G train for years was a punch line and suddenly it's a selling point now that the L train is about to be out of commission. It's sort of like the hour before last call at a Williamsburg bar, where standards start dropping faster than Boeing stock before a presidential tweet. Anyhow, you wouldn't have looked twice at the G train at midnight, but at 2 a.m., it's looking pretty good. In related news, the bathroom here looks quite nice, although the designer seems to have checked out before the kitchen drawings were approved. This feels more '90s than that awful "Shoop" song." —Constantine Valhouli 
"It's three blocks from the Nassau G stop, about four blocks to McCarren Park, and one street over from Peter Pan Donut and Pastry Shop, which is a pretty good combination. And the floor plan shows two entrances, which could help make the railroad-style layout a little more livable with a roommate." —Jennifer White Karp 
Whom it's perfect for? 
"A couple looking for an apartment big enough for a home office or studio." —Hochwald
"It's Greenpoint, and you're living in a renovated apartment in an actual/desirable/established neighborhood for $1,500 apiece." —Valhouli 
"Anyone who appreciates living in a neighborhood that hasn't completely lost its soul to ubiquitous chain stores." —White Karp
Take it or leave it
LEAVE IT. "It's pricey for the area—especially since it's a walk-up." —Hochwald
TAKE IT. "Negotiate a slight discount if you can." —Valhouli
TAKE IT. "It's spacious and bright, in a vibrant area." —White Karp