In New York City's ever-changing real estate market, where inventory is surging and buyers are beginning to regain confidence, it is more challenging and critical than ever to determine the correct time and price to list your property. 
Wait too long, and your home will hit the market as pent-up demand subsides. Price too high, and you risk getting "stale" on popular real estate search sites, triggering a downward spiral of price cuts and low-ball offers. 
Triplemint introduces a better idea: Test the waters and gather feedback from actual, real-life buyers before listing your property publicly. Triplemint's Pre-Market Program is a go-to-market strategy that puts you in the driver's seat.
"Our pre-market sales team enables you to test your pricing and marketing strategy without risk, before you put your home on the market," says David Walker, CEO of Triplemint. "We give you the best of both worlds. We find interested and qualified buyers looking for the very type of apartment you're selling before you've taken any risk, then we list your home with the full power of the open market and the data we've learned from the pre-market process.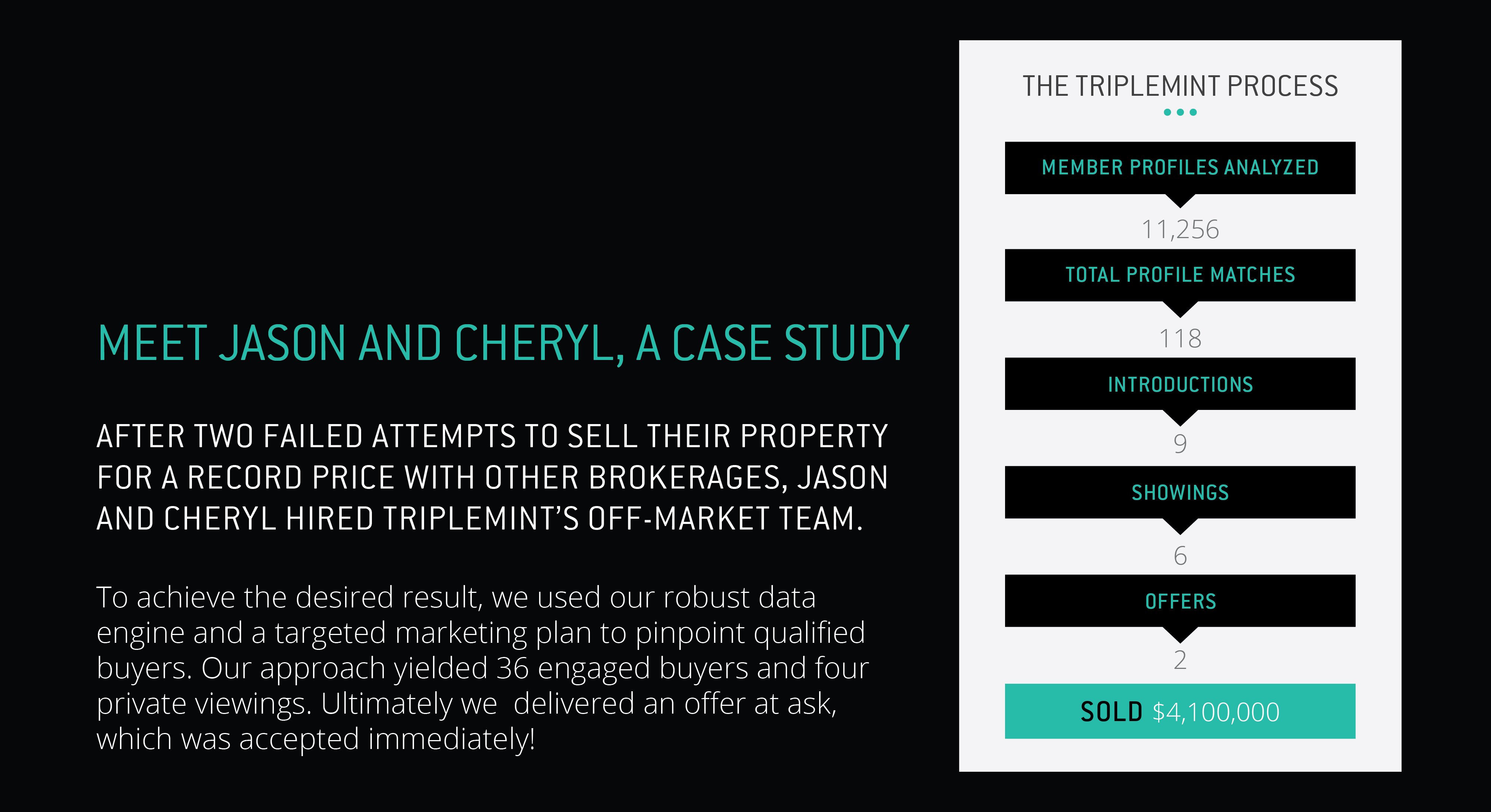 The Triplemint Pre-Market Advantage
"Whenever you decide to sell your home, you're taking some level of risk," says Philip Lang, co-founder of Triplemint. "As soon as it hits the market, the clock starts ticking. On average, after 30 days on the market, a property will sell for below the asking price, and the value will continue to decline." 
For sellers, Triplemint's Pre-Market Program uses insights and analytics to engage a targeted group of interested and active buyers before your apartment is even publicly listed. Through this process, Triplemint gathers and communicates buyer feedback, enabling you to best position your property and net the highest price when it's time to list publicly. 
How it works
For sellers, Triplemint's Pre-Market Program suits those who are looking to sell their respective property soon, or in several months, by enabling you to gauge interest and appropriate pricing before "starting the clock" with a public listing.  (Click here to learn more about Triplemint's pre-market program for buyers.)
To participate, sellers have a preliminary conversation with Triplemint's Pre-Market Team for an initial assessment. Next, sellers meet with a real estate expert to assess their property's respective value and develop an initial marketing strategy. Next, Triplemint's Pre-Market Team tests this initial price and strategy by presenting the property to a targeted group of real life buyers, and gathers feedback from the pre-market showings that are arranged. This approach allows sellers to generate demand and collect more data on the specific market for their property before listing publicly and exposing themselves to the associated risks. Why wait until the clock starts ticking to start the marketing process?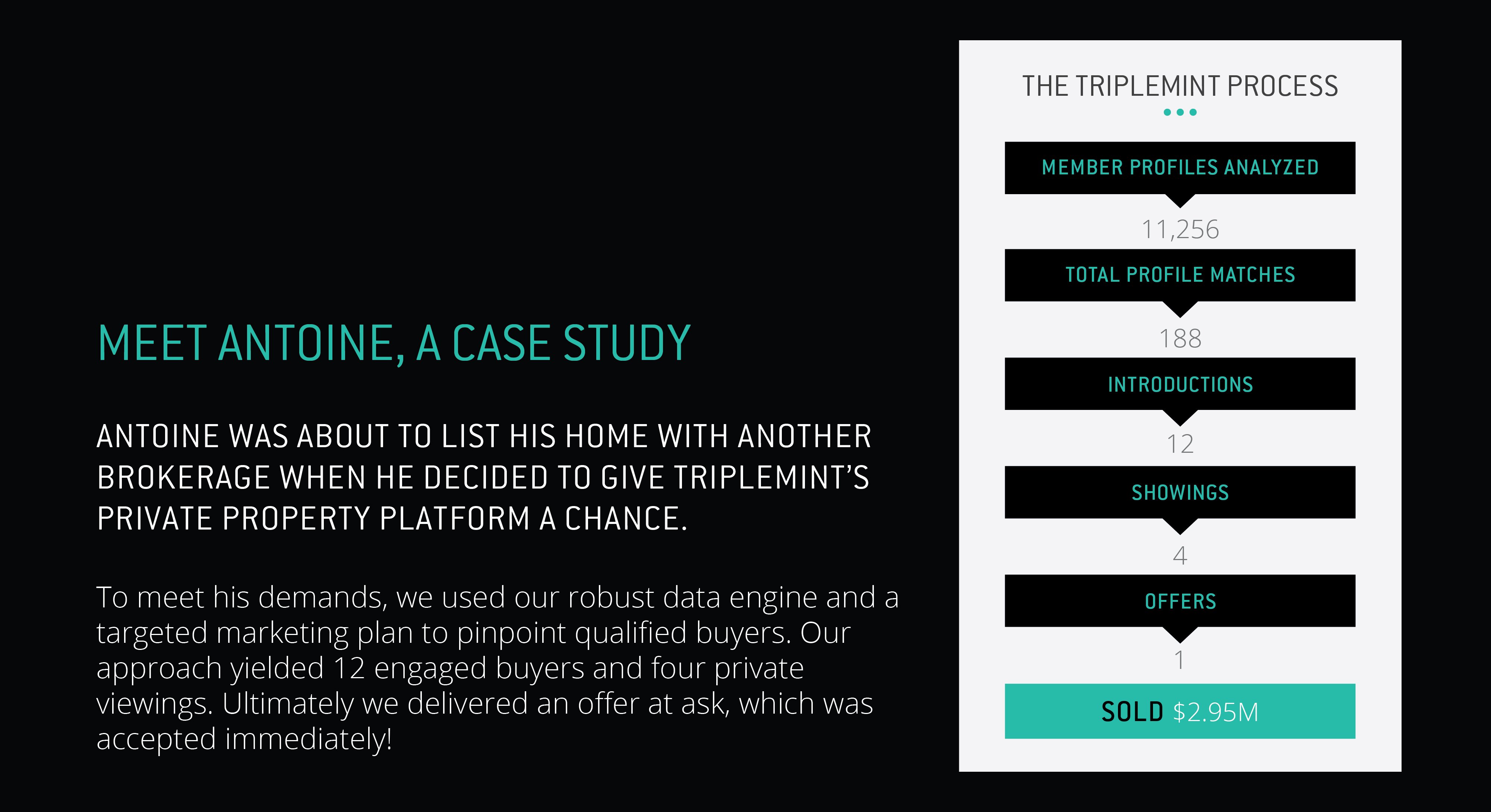 Why do it
Testing the market for your property with no risk is probably a compelling enough reason to try Triplemint's Pre-Market Program, but there are others as well.
"Some people aren't able to hold open houses, but they still want to begin the process of assessing demand for their home," says Lang. Others have different reasons for wanting to start the process before listing publicly. For example, you may have a specific date by which you want to sell your home, or you want to wait until another apartment in your building goes into contract etc. The Pre-Market Program allows you to start the marketing process while letting these scenarios run their course. 
This is a significantly different program from "stealth," "whisper," or "pocket" listings, where the property is quietly for sale but not actually listed on the market, which has long been around in New York City real estate. The Pre-Market Program is a very specific go-to-market strategy that helps sellers gain more data as they get ready to publicly list their property. "We believe publicly listing the property is always the best approach, and that more value can be delivered to sellers by listing in conjunction with Triplemint's Pre-Market Program," says Lang.
Ready to test your price without risk and sell faster—even in an ever-changing market? Connect with Triplemint's Pre-Market team today.